Edo Election: Deluge Hampers INEC's Distribution Of Sensitive Materials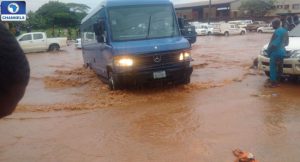 Heavy rain in the capital city of Edo State, Benin City, has hampered the planned distribution of sensitive materials for the State's governorship election by the Independent National Electoral Commission (INEC).
The electoral body had planned to begin distribution of the materials to local councils on Monday ahead of the election, but that plan was affected by heavy rain that started in the morning.
Although the rain did not stop the Central Bank of Nigeria from delivering the materials to the office of the electoral body, INEC had to wait for the rain to subside before distributions would begin.
However, while they await for an end to the rain, officials of the electoral body engaged in sorting of the materials under the watch of party agents.
Materials would be distributed to the 18 local government areas of Edo State.
Nineteen political parties are contesting in the election to produce a successor for Governor Adams Oshiomhole of the All Progressives Congress.
It is few days to the election that was shifted by the INEC after security agencies issued security alerts, advising the electoral body to postpone the election.
Security has been beefed up ahead of the Wednesday election to ensure the safety of lives and property.
Ahead of the election, the state government had declared Tuesday, September 27 and Wednesday work free days, saying itw would enable the residents travel to their places of registration to take part in the elections.