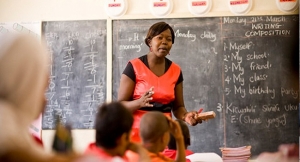 The Nigerian Government has reiterated its commitment to tackling the issue of unqualified teachers as part of efforts to arrest the dwindling fortunes of the nation's education sector.
The Minister of Education, Mr Adamu Adamu, made the declaration at the 61st meeting of the National Council on Education in Abuja.
He said "without adequate and qualified teachers, the goal of having an education system that produces quality graduates who can compete globally, cannot be achieved".
The Executive Secretary of the National Universities Commission, Professor Abubakar Rasheed, also advocated the need for teachers to improve themselves in order to impart quality knowledge.
In a meeting held earlier in September, the education ministry has stated its plan to align with the contemporary world and its focus on education "as an instrument of launching nations into the world of science and technology, with consequential hope of human advancement in terms of living conditions and development of the environment".
According to the ministry, "a nation develops in relation to its achievement in education".