Obiano Recognises Exemplary Service Of Civil Servants In Anambra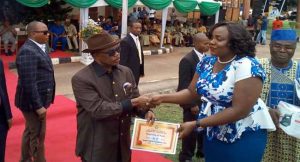 In commemoration of the 2016 African Public Service Day, Governor of Anambra State, Willie Obiano has recognised 35 civil servants for their exemplary service.
The event which drew workers from various departments of the Anambra State Civil Service, took place at the Jerome Udoji Secretariat in Awka, Anambra State Capital on Friday, September 30.
The venue reverberated with excitement as the selected workers were one after the other, called up to receive their certificates of recognition and a handshake from the governor.
Gov. Obiano urged them however, not to relent on their hard work, while assuring all workers of full salary payment before Christmas.
The occasion was one that clearly portrayed the relationship between government and workers.
An award recipient, Nwabufo Nwankwo was among workers who expressed excitement over the government's deeds as well as the cordial relationship that exists between them and the civil servants.
Commencement of 1000-Unit Housing Scheme
In separate speeches, Chairman of the Occasion, Professor Joe Ogbuagu and the Head of Service of Anambra state, Mr. Harry Udu, both pointed out the achievements of the governor towards improving the welfare of workers.
This according to them is especially in the area of prompt payment of salaries, provision of transportation for workers and the recent commencement of a 1000 unit housing scheme, to resolve the accommodation challenges facing the state civil servants.
Addressing the massive gathering of workers, the governor, Willie Obiano, commended their diligence, and also the support they have given him to drive the economic development of the state.
He emphasised the "full payment of their December remuneration and allowances before Christmas, as well as ensuring the promotion of workers next year".
In a vote of thanks from the Permanent Secretary of the Ministry of Information and Communication Strategy, Mr. Benjamin Umerah, he noted that "Anambra workers have been marching forward since governor Willie Obiano's assumption of office".
He therefore urged them to "keep supporting him for better life and prosperous service".
Celebration Of Public Servants
The Public Service Day is set aside by the African Union to draw attention to the central and unique roles which the public servants play in the governance process of member nations.
While it is usually observed at Continental and National levels on June 23rd of every year, each sub-national government is allowed to mark its own on any day and month taking into view circumstances peculiar to it.
For Anambra state, it is a time of re-appraisal, stock taking and period of rewarding deserving civil servants.