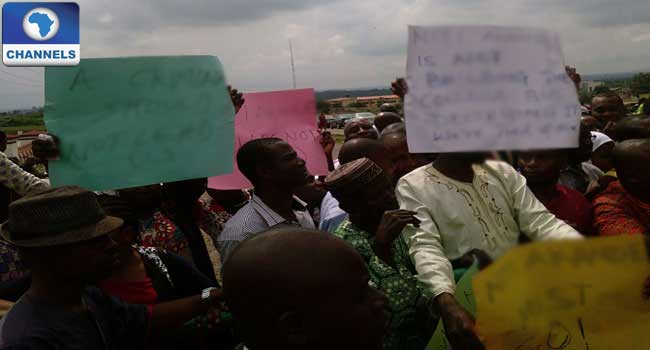 Students of various institutions under the aegis of National Association of Kwara State Students have staged a demonstration to the Government House, Ilorin for non-payment of five years bursary by the State Government.
The students, in their numbers, stormed the gate of the Government House, demanding to see Governor Abdulfatah Ahmed address them on why their allowances had not been paid for nearly five years.
Carrying  placards bearing various inscriptions, the students noted that while other states were paying 20,000 Naira, Kwara State could only afford the regular 5,000 Naira.
They alleged that nearly 500 Million Naira was budgeted for the payment in the 2016 budget and yet the government had continued to deny them their rights.
The security operatives on hand pleaded and ensured that they maintain peace.
Reacting, the State Commissioner for Information, Mahmud Jeigbe, said that the allegation of not being paid for five years is exaggerated as it was paid some years ago.
He explained that the economic situation of the country caused the delay.
Th government, he noted was aware of the need to pay and would surely do so when a committee set up by the Governor to look at the issue finishes its assignment.
As the students wait for the conclusion of the assignment on the issue of bursary, the education sector, according to the Commissioner, would continue to be given paramount attention by the Kwara state government.