Troops Arrest Livestock Rustlers In Kaduna, Katsina States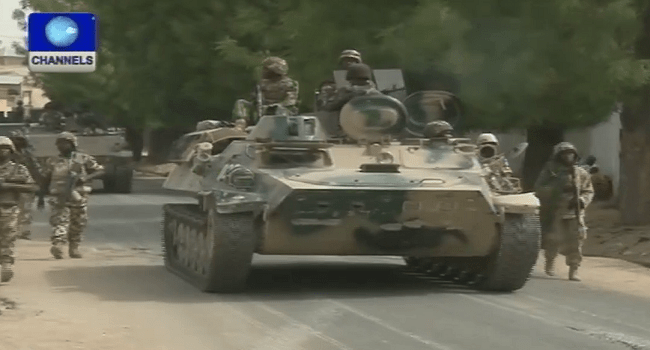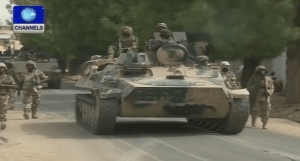 Troops of 1 Division Nigerian Army, have conducted clearance operations within Kaduna and Katsina states in continuation with the operations against livestock rustlers, armed bandits and kidnappers within their area of operations.
In Katsina State, the troops carried out a joint patrol at Nashambe village near Karoki in which two suspected livestock rustlers, Lawali Nakaduna and Yahuza Suleiman were arrested in Jibia Local Government Area and handed over to the Police.
The troops also arrested a notorious livestock rustler and armed bandit, Gide Maikwasara, who was shot while attempting to escape.
The troops recovered several empty cases of 7.62mm (Special) ammunition, two Dane guns, one cutlass, a knife and local charms.
In Jajaiye village, Shinfida District, Jibia Local Government Area, troops arrested three suspected collaborators; Alhaji Muhammadu Jammu, Sani Jammu and Garba Bammi, while others fled deep into the forest.
The troops also recovered one locally made Dane gun, one cutlass, one Sword, an axe and arrows. They also recovered 137 rustled goats and 157 sheep. The suspects and the recovered animals have been handed over to the Nigeria Police in Jibia.
The troops have embarked on aggressive patrols of bandits prone Local Government Areas of the state such as Dandume, Jibia, Kankara, Sabuwa and Safana.
In Anchau and Kubau Local Government Areas of Kaduna State, it was discovered that some of the local vigilante collaborate and supply information to the armed bandits.
One of the arrested suspected collaborator and informant, Musa Magabe stated that he supplied information to the bandits on troops and security agents movement and often points residence of uncompromising vigilantes and leaders for elimination. He further stated that he has also passed information to armed bandits in Falgore forest.
The suspect is being investigated, according to the Army.