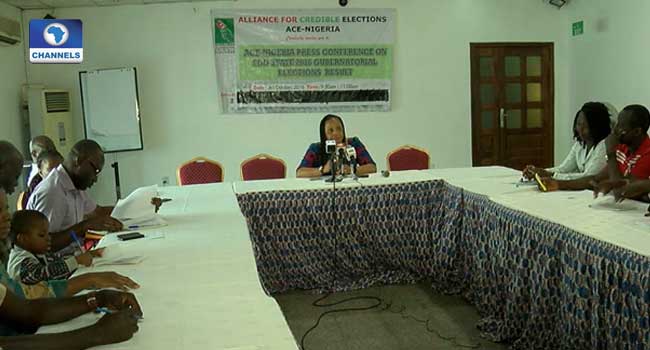 The Alliance for Credible Elections, (ACE), a civil society organisation, has expressed its dissatisfaction with the conduct of the September 28 governorship election which took place in Edo state.
The group claimed that the election was far from being free, fair and credible.
Addressing a press conference in Abuja on Monday, the acting General Secretary of the organisation, Mrs Mma Odi, said that there was generally no secrecy in voting, as people voted in the full glare of party agents despite the presence of security agents.
Mrs Odi, while presenting the report of the observation of the election by the Alliance for Democracy, added that there was a form of subtle intimidation of voters aided by open sale of votes for cash.

The group also criticised the delay in the collation of votes which commenced late in the evening despite elections being concluded by 2:00 p.m. local time in most of the polling units across the state.
Smooth Elections
The concerns pointed out by the General Secretary of the group, however, contradict initial comments by several observers who stated that the polls went on smoothly.
INEC National Commissioner, Mrs Amina Zakari, had said that the electoral process went on as expected while INEC officials and security agents worked professionally to ensure it was hitch free.
Furthermore, a poll on the performance of INEC in the election initiated by Channels Television on Twitter had over 5,000 Twitter users participating.
Thirty per cent of the people rated INEC'S performance in the election as excellent while another 30 per cent said it was fair.
Twenty-six per cent rated it poor and another 14% were indifferent.
The election finally came to a close with INEC announcing Godwin Obaseki as the governor-elect of Edo state to take over from Governor Adams Oshiomhole who has ruled the state for nearly eight-year.
After the result was announced, however, aggrieved members of the People's Democratic Party, (PDP) alleged inducement of voters and collaboration of INEC and the state government to doctor the results in favour of the candidate of the All Progressives Congress (APC).
The PDP has said it would go to Tribunal to challenge the outcome of the election, but the APC denied inducing voters and said the PDP was a bad loser.