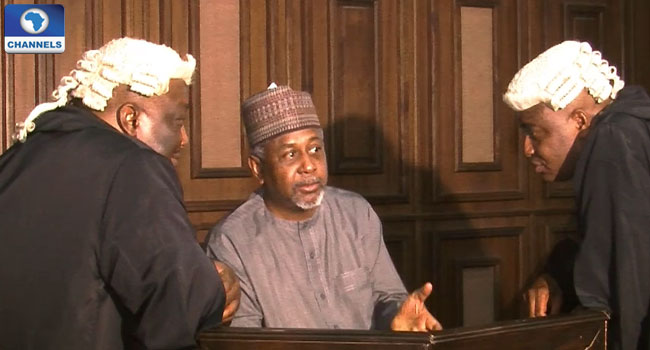 The ECOWAS community court of justice has declared the arrest and continuous detention of former National Security Adviser, Colonel Sambo Dasuki as unlawful and an arbitrary violation of his fundamental human rights and the African Charter on Human and Peoples Rights.
Delivering judgment on the suit filed by the former National Security Adviser against the federal government, the three-man panel of the court presided over by Justice Friday Nwoke, ordered the federal government to release him immediately having detained him illegally without trial since the November 5, 2015.
The court also ordered the federal government to pay the sum of 15 million naira as compensation to Colonel Dasuki for unlawfully detaining him, invading and seizing his properties without a valid search warrant or an order of a court of competent jurisdiction.
The court further held that investigating Colonel Dasuki for allegedly committing or planning to commit a crime is not enough ground to detain him for over seven months without trial.
The court held that it was an arbitrary claim that there were plans to destabilise the government.
The court also said that the applicant, like any other ECOWAS citizen, has a right to own and enjoy property without interference.
The lawyer to Colonel Dasuki applauded the verdict of the court and asked the federal government to obey the judgment.