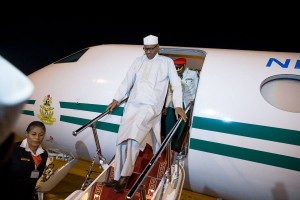 President Muhammadu Buhari says he plans to sell off more jets from the  presidential fleet while some will be handed to over to the Nigerian Air Force.
The president's Senior Special Assistant on Media and Publicity, Garba Shehu confirmed this after revealing President Buhari's directive that two jets from the presidential fleet be sold off to cut down on overheads.
According to Mr. Shehu, the president has already approved that the sale of the two aircraft be advertised in national newspapers.
The sale of the Falcon 7X Executive jet and a Hawker 4000 aircraft from the President's Air Fleet is to cut down on waste.
His directive to a government committee on this assignment is that he wants a smaller fleet for the safe airlift of the President, the Vice President and other government officials that go on special missions.
The Socio-Economic Rights and Accountability Project, a non-governmental organization, had earlier called for a scale-down of the presidential fleet and reduction of other government expenditure.
The group says this is expedient at a time when the country is grappling with a recession.
The presidential fleet reportedly has about 10 aircraft.
It includes a Boeing Business Jet (Boeing 737-800), a Gulfstream 550, a Gulfstream 500, two Falcons 7X, one Hawker Sidley 4000, two Agusta Westland AW 139 helicopters and two Agusta Westland AW 101 helicopters.