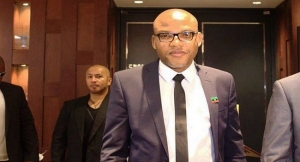 The detained self-acclaimed leader of the Indigenous People of Biafra, Mr Nnamdi Kanu, has taken quest for freedom to the ECOWAS Court of Justice in Abuja.
Mr Kanu is demanding the release of his personal belongings allegedly seized during his arrest and a monetary compensation of 800 million dollars for alleged violation of his liberties.
He is also asking the court to compel the federal government and their agents to respect, protect and promote his human rights.
Hearing in the case has been fixed for November 8, 2016.
Kanu alongside his co-accused, Benjamin Madubugwu and David Nwawuisi are facing a six-count charge of treasonable felony, brought against them by the Nigerian government.
A Federal High Court judge in Abuja had in September withdrawn from the case.
Mr Kanu had filed a petition against Justice Tsoho before the National Judicial Council over alleged judicial rascality.
Justice James Tsoho said that he had no personal interest in Kanu's trial and would return the case file to the Chief Judge of the Federal High Court, Justice Ibrahim Auta for reassignment.