Saraki Seeks Support To End Malnutrition In North-East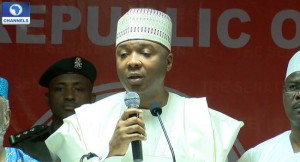 Nigeria's Senate President, Dr. Bukola Saraki, is calling for more support from Nigerians and members of the international community to tackle the issue of child malnutrition in internally displaced persons (IDPs) camps in the northeast.
The Senate President made the appeal during a meeting with representatives of 32 IDPs' camps located in the Federal Capital Territory.
He said that the Senate is ready to ensure that resources meant for the IDPs get to the intended beneficiaries rather than being diverted for selfish purposes.
He also assured those gathered that the adhoc committee recently constituted by the Senate on the diversion of funds and aids meant for IDPs would not stop at identifying the problems but would also outline solutions going forward.
Diversion Of Funds
Just a week earlier, the Nigerian Senate launched an investigation into the utilisation of funds allocated to the Presidential Initiative on North East.
The lawmakers, who said the probe was to ameliorate the conditions of the IDPs affected by the insurgency, constituted an ad-hoc committee at their first legislative proceedings for the week.
They expressed concern that funds appropriated to the committee for the displaced persons have been allegedly used to take care of other interests.
The legislators also resolved to investigate the purported diversion of grains and other food items from the strategic grains reserve, the National Emergency Management Agency and other sources for the IDPs.
They asked the committee to ascertain how much has been released to the committee and how the funds have been utilised from inception till date.
The Senate noted that the displaced persons had fled their homes as a result of the Boko Haram insurgency and were living in camps scattered across the northern part of Nigeria.
They were sad that despite the fact that the insurgency victims lost their loved ones and all their property, they were contending with horrific living conditions in their various camps.