NEMA Confirms Eight Killed In Maiduguri Blast
The National Emergency Management Agency, (NEMA) has confirmed that eight people were killed in Wednesday morning's bomb blast in Muna garage, Maiduguri.
The Public Relations Officer for NEMA, Sani Datti said in a statement that "Eight persons lost their lives, while 15 others who sustained injuries have been taken to specialist and teaching hospitals".
The suicide bomber reportedly joined a cab before detonating the IED killing herself and other occupants.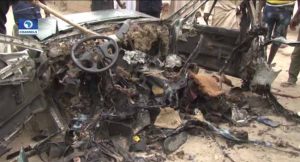 According to the Police Public Relations Officer in Borno State, Victor Isuku, the ill-fated cab was about joining the convoy of hundreds of vehicles to be escorted by security operatives to the border town of Gamboru Ngala when the explosion occurred.
A witness at the Muna garage area, Adamu Garba said the vehicle had already made moves to join the convoy when the explosion occurred.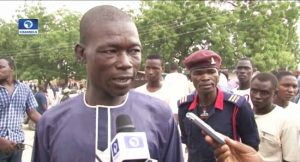 "The car appeared to be coming from custom area towards the garage," he said
Describing the scene, he said he was trying to park his vehicle when he heard a loud bang.
"We all went flat on the ground. When we got up, we just saw pieces of human parts everywhere and a newborn baby whose mother had obviously died so we picked the child and sought help for the injured".
Gamboru is an economically strategic town as it borders Central and North Africa from the northeast region of the country.
Previous Attacks
In 2015, the Islamist terrorist group, Boko Haram, had killed at least 10 people in a town in northeast Nigeria, two security sources confirmed to Reuters.
The sources said Boko Haram attacked a settlement on the way into the centre of Gamboru, on the border with Cameroon.
The nearby village of Ngala was also attacked.
However, later in the year 2015, the Nigerian Army appeared to have gained substantial victory in the fight against insurgents in Gamboru-Ngala, Borno state
A statement by the spokesman for the military, Colonel Sani Kukasheka Usman, said the troops had reclaimed and started clearing and mopping up patrols in the town.
Fresh Attacks
The attack is coming shortly after the Maiduguri/ Gamboru road was re-opened for civilian passage in July 2016, after nearly three years of closure due to the activities of the insurgents in the area.
The Nigerian Army marked the successful counter insurgency operations by reopening the Dikwa-Mafa-Gamboru road in Borno State.
During this occasion, the Chief of Army Staff, Lieutenant General Tukur Buratai, declared the road safe for civilian passage.