Police Nab 25 Criminals In Abia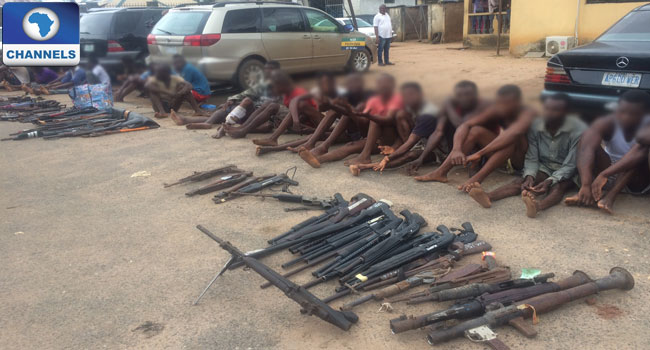 The Abia State Police Commissioner, Oyebade Adeleye said that the command has strategically put in place measures that would guide against abduction of school students from their dormitory or on the way home.
He made this statement at the Police Headquarters in Bende Road, Umuahia, during the parade of suspected criminals who were accused of being involved in various hideous crimes that include rape, murder, armed robbery, stealing and snatching of vehicles amongst many others.
The items recovered from them include televisions, phones, money, AK-47 rifles, live ammunition, locally made pistols and two vehicles.
According to the CP, the suspects, if found guilty, would be arraigned in court to face the full wrath of law.
One of the suspects is a 23-year-old motorcycle operator from Lokpaukwu, carrying the picture of the lifeless body of the 65-year-old victim whom he allegedly raped and later murdered. He refused to admit to the crime.
Another suspect is Nwaka Aka from Owo Ahia Afor in Obingwa Local Government Area, who specializes in buying stolen goods from an armed robber.
The Police Commissioner hinted that the command is also making efforts to prevent abduction and kidnapping in the schools across the state.
He urged all and sundry to partner with them by volunteering information at all times.