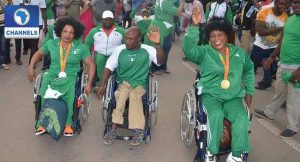 The Anambra State Governor, Willie Obiano, says he has developed well-articulated programmes for the improvement and welfare of persons living with disabilities both in sports, education and in social integration.
The Governor was speaking during the recognition and presentation of gifts to two victorious Anambra athletes who won medals at the just concluded Paralympics Games in Rio de Janerio, Brazil.
The gold medalist in Javelin, Ifeyinwa Ugwumba, received a reward of 1 million Naira in addition to automatic employment in Anambra State Civil Service and similarly, the bronze medalist Njideka Iyiazi, received 1 million Naira and immediate employment into the State Civil Service.
The Governor also rewarded the two coaches that trained the athletes with half a million Naira each.
The Special Assistant to the Governor on Physically Challenged Persons, Mr Chucks Ezewuzie, said that the Governor would continue to raise the self-esteem of persons living with disability.
The State Commissioner for Youths, Entrepreneurship and Sports Development, Mrs Uju Nwogu, also added that the Governor's commitment has ensured that excellence has been recorded in sports since he took office.
For them it is the beginning of sports revolution in the state as many who have left will come back and join in uplifting sports in the state.