The Bring Back Our Girls campaign group says it will continue to keep the government on its toes to ensure that the full rehabilitation and re-integration of the 21 released Chibok girls.
The girls who were students of the Government Girls Secondary School in Chibok were abducted on April 14, 2014 by members of the Boko Haram terrorists group.
They regained freedom on Thursday, after the government secured their release through negotiation.
Speaking with Channels Television at the usual sit out of the group on Sunday, a co-convener of the group, Aisha Yessuff, said the group would monitor to ensure that the promises made to the girls such as re-integrating them into schools were fulfilled.
The group also called on international organisations who had pledged their support in the past to ensure that they help the Federal Government in the rehabilitation of the girls.
"What we are assuring Nigerians is that we will not allow the government to shift from its responsibility.
"It is the responsibility of the government to ensure that they get the right education that they can.
"BBOG can help in whatever way it can to ensure that they get that right education," she promised.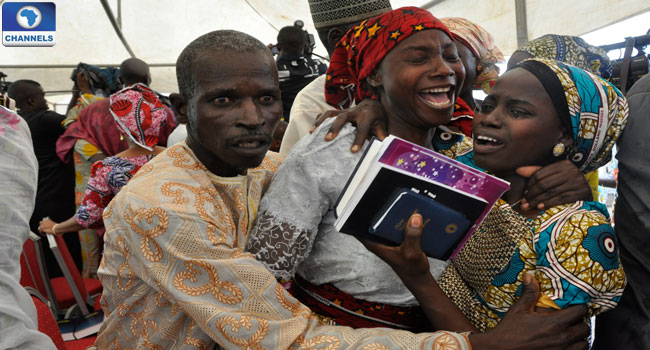 Mrs Yessuff, however, pointed out that now that some girls had regained freedom, it was time for the government to come in and help rehabilitate the girls.
The group, however, said it would continue in its advocacy to ensure the release of not just the remaining school girls still in captivity, but that of every Nigerian that is still in captivity.
The government had promised that it would secure the release of the other girls still in captivity.
It had also promised to rehabilitate the released girls.
While efforts continue to ensure that other girls are released, the Minister of Information and Culture, Mr Lai  Mohammed has warned Nigerians to avoid reckless analysis that could jeopardise the chances of securing the girls' release.
He made the demand on Sunday during a thanksgiving service organised for the released girls where they were also reunited with their parents.