Recession: Forum Lists Changes Needed To Reflate Nigeria's Economy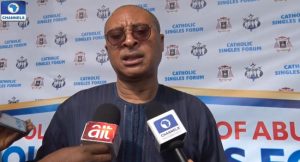 Participants in a conference held in Abuja, Nigeria's capital, have identified critical issues they said must be addressed for the nation to come out of current economic recession.
Lack of political will to develop the manufacturing sector of the economy is a major reason the nation is in recession, they said.
The former Coordinator of the National Poverty Eradication Programme (NAPEP), Mr Magnus Kpakol, was one of the participants in the conference that focused on 'the Role of Monetary Policy in Job Creation'.
It was organised by the Economics and Business Strategies Limited in Abuja.
Lack Of Ability To Produce
According to Mr Kpakol, dearth of foreign exchange and high inflation rate in Nigeria is caused by the lack of ability to produce for export.
Nigeria's currency, the Naira, has continued to decline against the dollar since the nation's foreign exchange policies made it difficult for importers to have access to the dollar like they used to.
Most of the items in Nigeria are imported. Poor power supply and other factors had stifled manufacturing, with most companies having to generate their own power. The high cost of production has made locally manufactured goods expensive.
The conference had series of lectures targeted at driving the economy seen as the largest in Africa.
Other discussants, a professor of economics, Pat Utomi, and a former Deputy Governor of the Central Bank of Nigeria, Obadiah Mailafia, emphasised the need to improve involvement in agriculture and manufacturing in the nation that had depended largely on crude oil sales for revenue.
Agriculture was the mainstay of the nation's economy before the discovery of crude oil.
Meanwhile, the keynote speaker, Anita Campion, stressed the need to have a policy that encourages production, processing and export of agricultural products.
The conference came at a time that unemployment is on the increase and the economy is in recession.
According to the National Bureau of Statistics, Nigeria's unemployment rate rose from 12.1 per cent in the first quarter of 2016 to 13.3 per cent at the end of the second quarter.
Despite the situation, experts at the conference believe that right economic policies that encourage private investments could turn the situation around.