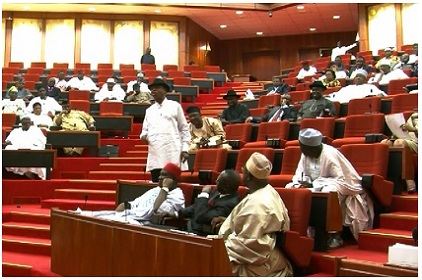 The Senate will on Tuesday open debate on the 2017-2019 Medium Term Expenditure Framework (MTEF), and Fiscal Strategy Paper (FSP).
The Senate President, Dr Bukola Saraki, in a press release from his media office confirmed that deliberations on the expenditure framework will has been fixed for Tuesday. He added that this comes as the Senate has resolved to prioritize all economic bills to help fast track the exit of Nigeria from the economic current recession.
The statement added that quick consideration and eventual passage of the MTEF will help pave the way for the Executive to present the 2017 Appropriation Bill before the National Assembly in good time.
The MTEF and FSP provide the framework for the 2017 budget.
An analysis of the fiscal provisions of the 2017 – 2019 MTEF/FSP includes a proposed 2017 crude oil benchmark of $42.5 per barrel, up from $30 in the 2016 budget and the estimated N7.775 trillion as revenue to be generated from oil resources based on an estimated 2.2 million barrel per day oil production.