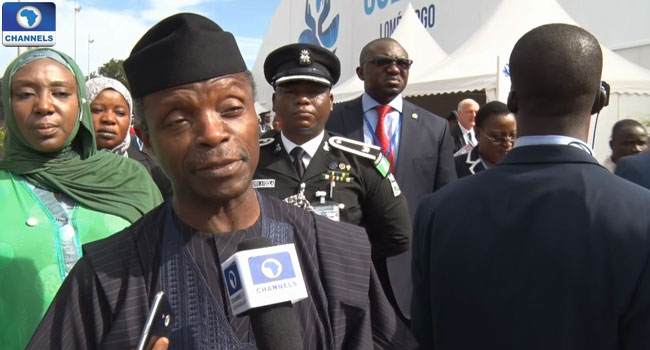 The Federal Government is seeking more support from Nigerians for the anti-corruption fight aimed at recovering stolen funds from persons that looted the nation's treasury. 
The government further assured law abiding Nigerians that they have nothing to fear, as the government's fight against corruption is aimed at retrieving the commonwealth of Nigerians from persons who have illegally appropriated such wealth to themselves and their families.
Addressing participants at a national conference on Tuesday on the role of the legislature in the fight against corruption, Vice President Yemi Osinbajo said "Nigeria stands the risk of perpetually remaining under-developed if nothing is done to stem the tide of corruption".
Respect The Rule Of Law
He appealed to Nigerians to team up with the Federal Government in its effort to rid the nation of corrupt persons.
The issue of corruption again took centre stage, at the Presidential Advisory Council Against Corruption and the National Assembly conference.
Participants had gathered to brainstorm on how to tackle corruption.
While the Vice President, who declared the conference open, lamented the state of corruption in Nigeria, a former Director of the Kenya Anti-Corruption Commission, Patrick Lumumba, in a keynote address recommended severe sanctions to deter corrupt persons.
The Chairman of the Presidential Advisory Committee Against Corruption, Professor Itse Sagay, berated the legislature for its failure to fight corruption just as the President of the Senate, Dr. Bukola Saraki, advised the Federal Government to respect the rule of law.
The two-day conference will among other subjects examine the role of the legislature as the champion of anti-corruption reforms, reform of the anti-corruption legal framework and compliance with international standards.