Court Martial Jails Soldier Over Assault On Minor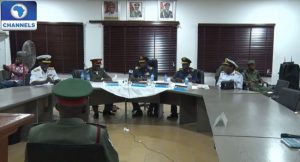 The court martial trying offending soldiers of the Operation Lafiya Dole has de-ranked and sentenced an Army personnel to three years in prison over assault on a minor, which led to amputation.
The convict, Umar Sule, a staff sergeant was first arraigned in August 2015 alongside 19 others for various offences.
The two-count charge against him include entertaining an unauthorised person in his guard location as well as unlawful assault causing "grievous bodily harm".
The 10-year-old boy, simply identified as Mohammed Usman, sat limbless in court on Tuesday as the fate of his assaulter was decided.
Mohammed, as an errand boy to the said soldier, allegedly stole 2,000 Naira from his master's room.
Giving his ruling, president of the court martial, Brigadier-General Olusegun Adeniyi, said that the court was guided by military laws as enshrined in the Armed Forces Act 2004.
The Defence counsel pleaded for mercy on the grounds that Sergeant Umar was a first offender with clean records.
The victim's mother, Amina Usman, however, had mixed feelings over the ruling, saying the future of her child hangs in the balance.
On her part, a representative of the National Human Rights Commission, Jummai Mshelia, commended the Nigerian Army and the court martial for the ruling and sought support for the victim.
The judgement is the first since the General Court Martial was inaugurated.
The court has adjourned till October 20 for hearing of the next case.
The 20 soldiers arraigned before the court comprise of four officers and 16 other ranks.