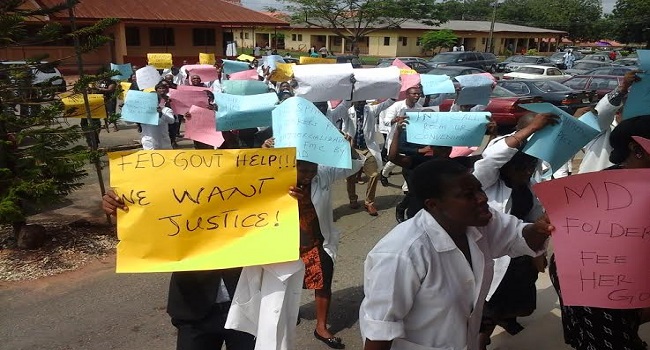 Workers of the Federal Medical Centre, Owerri have staged a protest over the recall of the former Medical Director, Angela Uwakwem.
Dr. Uwakwem was earlier asked to step aside over allegations of financial misappropriation.
During the protest on Wednesday, which was carried out by a huge number of workers at the Federal Medical Centre in Owerri, the workers maintained that since the former CMD was relieved, there has been peace in the centre.
They added that any attempt to forcefully bring back Dr. Uwakwem will cause chaos in the centre.
Doctors, nurses, and other workers of the institution in July, 2016, held a similar protest saying since the Interim Management Committee was set up by the government to handle the affairs of the centre, there has been normalcy in the medical institution.
A Presidential Directive
Their protests follows the directive by the Federal Ministry of Health to reinstate the suspended Medical Director.
The directive for her reinstatement is contained in a statement issued by the Minister of State for Health, Dr Osagie Ehanire, on Wednesday in Abuja.
Dr. Ehanire in statement said the recall of Dr. Uwakwem is with immediate effect adding that the institution's management would be supported by staff from the ministry.
Contrary to the claims of the protesters, the minister argued that the appointment of the Medical Director of the centre is a presidential issue and her removal can only be done through a presidential directive.
"Should evidence of misconduct be found against her, Dr Uwakwem will answer for it and face the law as no person shall be protected from justice.
"Since Dr Uwakwem's 4-year tenure is valid until 2017 and no evidence of misconduct against her was raised by a Ministerial fact finding commission, the Ministry desires rule of law to prevail over mob action," he said.