Save Nigerians From Hunger – Fayose Tells Buhari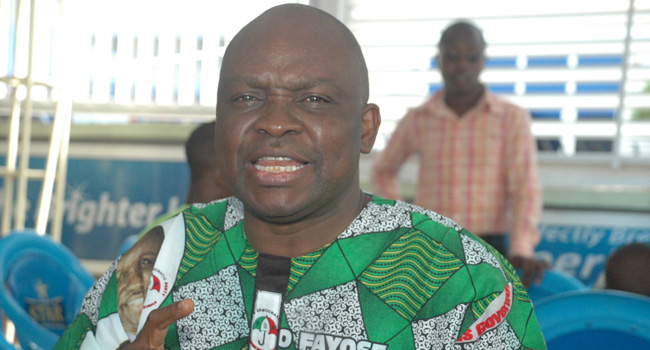 The governor of Ekiti State, Ayodele Fayose says the APC-led administration is losing focus as it should first save Nigerians from the pangs of hunger and reduce the poverty that pervades the land.
Governor Fayose who said this in a statement released on Tuesday in Ado Ekiti, added that President Muhammadu Buhari's government should concentrate on delivering the social welfare programme it promised Nigerians instead of coming after him.
"This project 'Fayose must be implicated at all cost' will definitely not put food on the tables of Nigerians and for all I care, the Economic and Financial Crimes
Commission and its collaborators can keep running from pillar to post while I keep delivering good governance to Ekiti and its people." He said.
'I got no Kobo from Obanikoro'
The governor also dismissed claims that former Minister of
State for Defence, Senator Musiliu Obanikoro confessed to the EFCC
that he received funds from the Office of the National Security Adviser
under retired Colonel Sambo Dasuki to fund his election.
"We have gone pass this stage of media trial, EFCC should rather keep its
gun powder dry, when we get to the bridge, we will cross it.
They said more than this in the 2006 poultry scam blackmail, despite that, I am
the governor today." He said.
According to the statement signed by his Special Assistant on Public
Communications and New Media, Lere Olayinka, Governor Fayose said he
is reacting to these allegations to fulfill all righteousness.
He said "those who arranged the dramatic and compromised return of Senator
Obanikoro to Nigeria obviously did so in continuation of their project
'Fayose must be implicated at all cost' but I am not bothered because
my election was legitimately funded."
A Challenge to EFCC
The governor also challenged the EFCC to probe the funding of the APC during the last general elections.
Governor Fayose said; "Since we are now in the era in which financial assistance from Nigerians to fund elections is being criminalised, the international community, especially those funding EFCC must insist that the commission probes the funding of APC elections before further funds are released to the commission."