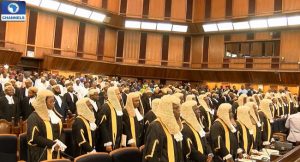 The Nigerian Judicial Council (NJC) has disagreed with the Nigerian Bar Association (NBA) on the alleged corruption case against some judges.
The NJC, in a statement on Friday, dismissed the call by the NBA for the judges under investigation to proceed on compulsory leave until their innocence is fully and completely established or until the conclusion of all judicial or disciplinary proceedings.
The NJC said that it would be unlawful for it to yield to the call by the NBA, as "that position breaches the 2014 revised judicial discipline regulations formulated by NJC pursuant to section 160 of the 1999 constitution of the Federal Republic of Nigeria, as amended".
The council further stated that it shall not be subject to the direction or control of any other authority or person while exercising its disciplinary power of control over judicial officers in the federation.
It added that its constitutional mandate is to process and recommend to the executive at the federal and state levels, the appointment, and or the removal of judicial officers from office, including exercise of its disciplinary control of suspending and or warning judicial officers.