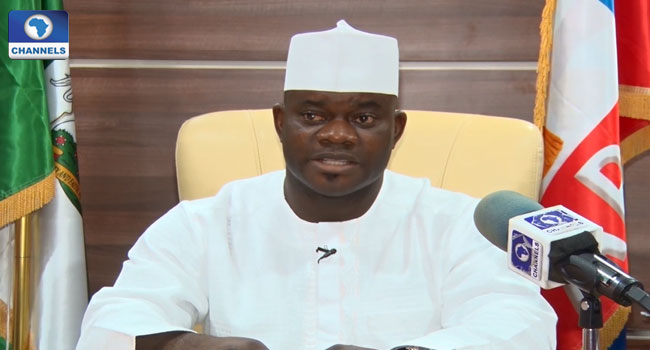 Governor Yahaya Bello of Kogi State says his administration will use the principles of fiscal responsibility to curb corruption in the state's civil service.
The governor stated this on Monday when he received the report from the Fiscal Responsibility Committee he inaugurated in May 2016.
While receiving the report at the Government House in Lokoja, the state capital, Governor Bello said the direction of his administration goes along with absolute transparency, accountability and zero tolerance  for corruption in the state public financial system.
The governor promised to implement the recommendations made in the report of the Fiscal Responsibility Committee, adding that his government has the political will to implement all recommendations made by various committees.
The nine man  ad-hoc committee on fiscal responsibility was inaugurated by the governor to review certain fiscal policy relating to the implementation of a treasury single account, contributing pension scheme and a productive post autonomy for state internal revenue services.
The chairman of the committee, Professor Stephen Ocheni says the the Fiscal Responsibility Committee was set up to advice the state government on ways to manage its scarce resources, privatize and put to use judiciously the resources of the state.
He added that as a result of certain steps taken, the state government is now saving about N1 billion every monthly.
Professor Ocheni suggested that once the government matches action with words corruption in the state civil service will be reduced significantly.
Preaching Fiscal Discipline
The choice of Professor Ocheni to lead such fiscal responsibility drive in the state has been seen as a strategic move by the state governor.
Mr. Ocheni, who is a Professor of Public Sector Accounting at the Kogi State University, Anyigba, is regarded as one of the foremost advocates of the Treasury Single Account policy.
While presenting a paper at a workshop in January organised by the Association of National Accountants of Nigeria and the International Federation of Accountants (IFAC), and The World Bank in Abuja, Prof. Ocheni argued that the implementation of TSA will help tame the tide of corruption especially in the civil service.
He added that the TSA and other fiscal control mechanisms facilitate better fiscal and monetary policy coordination.