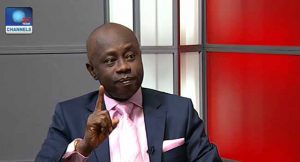 As the debate continues over the legality or vice versa of the recent raid on judges, legal practitioner, Kenneth Odidika, feels that the DSS' had attempted to instigate the public against the judiciary, an action he described as "totally wrong".
He gave this opinion on Monday, while speaking on Channels Television's Breakfast program, Sunrise Daily.
Speaking on if Nigeria is on the right path to ridding the judiciary of corruption, Mr Odidika said although "most of us are against corruption, the way we fight it is very critical".
He hinted that in any given situation such as the case of the DSS, intentions might be right, but actions speak louder.
Going back in time, he said corruption became evasive in Nigeria after the time of Gen. Murtala Mohammed, when there became uncertainty regarding the tenure of civil servants.
"Despite all the wonderful intentions of Murtala Mohammed, he did a major damage that has still not been corrected until now, and the same thing is about happening to the judiciary".
On the legality of the DSS raid, he says "it could be legal but is it expedient to go and break down doors at 1:00 am when they could easily have arrested them? he questioned.
"You don't have to tell them you are coming, just go there in the morning and do all that is necessary".
While referring to the actions as "all noise", according to him, he wonders whether people really want to fight corruption or they just want to "sabotage the President's intention to fight corruption.
"Are we just interested in making noise and losing the case, or in actually bringing people to book?
Consequently, "when the evidence is tainted, it will be resolved in favour of the accused".
He however admitted that "the system is totally messed up, the corruption is there, incompetent judges are there as well as those who lack knowledge.
On the other hand, "there are excellent judges", he says, which sums up his disapproval of the DSS actions on the Judiciary as a whole.