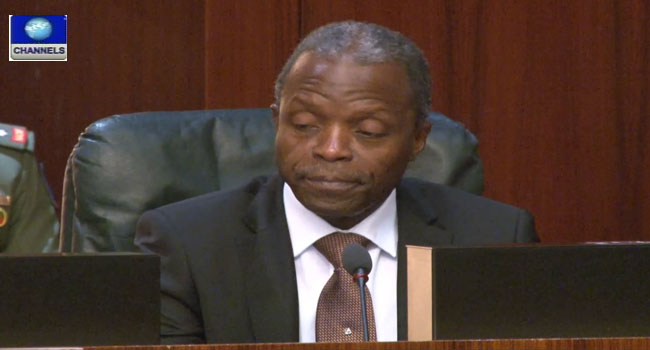 Nigeria's Vice President, Professor Yemi Osinbajo, is currently presiding over a meeting with state governors at the Council Chambers of the Aso Rock Presidential Villa in Abuja.
Other members of the National Economic Council are also present at the meeting.
It is not clear what the agenda of the meeting is, but it is likely to be on the state of the nation and perhaps how the governors can contribute in getting Nigeria out of recession through collaboration with the Federal Government.
The Council in its last meeting on September 22 approved President Muhammadu Buhari's strategies to pull the economy out of recession.
At the meeting, ministers and governors also debriefed the Finance Minister, Mrs Kemi Adeosun and the Minister of Budget and National Planning, Mr Udoma Udo Udoma as well as the CBN Governor, Godwin Emefiele on the strategies to take the country out of the woods.
Biggest Economy In Africa
The oil-rich nation's economy officially slipped into recession in the second quarter of 2016, with a report of the National Bureau of Statistics showing that the economy contracted by 2.06% in that quarter.
The Naira had become weak, exchanging for over 480 Naira to a dollar in the parallel market.
Despite the recession, a report of the International Monetary Fund (IMF)  has affirmed Nigeria as the biggest economy in Africa.
Nigeria was reported to have lost its spot as Africa's biggest economy to South Africa in August 2016, following the recalculation of the country's Gross Domestic Product.
But the IMF's World Economic Outlook for October 2016, puts South Africa's GDP at 280.36 billion Dollars, from 314.73 billion Dollars in 2015.
Meanwhile, latest estimates from the IMF put Nigeria's GDP at 415.08 billion Dollars, from 493.83 billion Dollars at the end of 2015.