Manchester United Advance As Chelsea Exit EFL Cup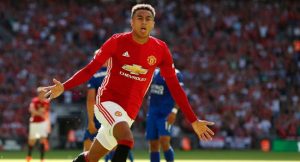 Manchester United have cruised to the next round of the EFL Cup, as they defeated Manchester City 1-0 on Wednesday night.
It was a tough clash for both teams at the Old Trafford where City's Kelechi Iheanacho and the Red Devil's Antonio Valencia got a yellow card before the end of the first half.
Juan Mata subsequently put a smile on the hosts' faces with his saving goal in the 54th minute while Paul Pogba and Zlantan Ibrahimovic were penalised with another yellow card apiece before the game ended.
At the London Stadium, West Ham United beat their visitors, Chelsea 2 – 1 to qualify for the next round of the competition.
Cheikhou Kouyate and Edimilson Fernandes netted for the East Londoners while Gary Cahill score the Blues' consolation goal.
On Tuesday, Alex Oxlade-Chamberlain scored two goals as Arsenal booked their spot in the quarter-finals of the EFL Cup with a 2-0 win over Reading.
The Championship side went into the match looking for their first ever win over the Gunners, but it was an easy win for Arsenal in the end, thanks to a double by the Ox, who seemed to be overcoming his difficult start to the season.
Liverpool are also through to the fifth round courtesy of a brace from another England striker, Daniel Sturridge as they defeated Tottenham 2-1.
The striker opened the scoring early at Anfield after exploiting a Spurs mistake. He doubled the lead in the 60th minute