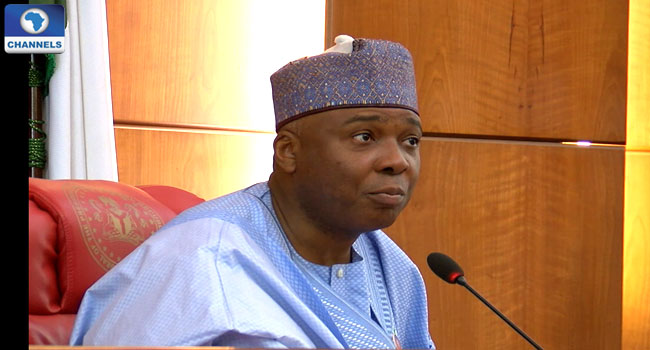 The Nigerian Senate says it is focused on fixing the nation's economy that is in recession by opening up new sectors through legislative interventions.
The Senate President, Dr. Bukola Saraki, gave the indication on Wednesday.
He says the legislative interventions will create jobs.
"With the Senate's priority bills, private sector participation in railways, road construction and other transport infrastructure that will stimulate job creation will become a reality," a tweet on his Twitter handle read.
The @NGRSenate is focused on fixing #Nigeria's economy by opening up new sectors through legislative interventions — this will create jobs. pic.twitter.com/EBfcsQSHt1

— The Senate President (@SPNigeria) October 25, 2016
Dr. Saraki's comment is coming at a time that the lower chamber, the House of Representatives, is to investigate if the concession of assets of the Nigeria Railways Corporation to General Electric violates the county's privatisation laws.
In a motion considered during Tuesday's plenary, the lawmakers queried what they described as an attempt by the Federal Executive Council to concession the Western (Lagos-Kano) and Eastern (Port Harcourt-Maiduguri) rail lines, to General Electric, without recourse to the Bureau of Public Enterprises, and privatisation regulations.
The move to investigate the concession agreement with GE came after a motion raised by Hounorable Chukwuemeka Ujam.
Any law that can help reflate the oil-rich nation's economy will be a welcomed development to many Nigerians, as the effect of the recession is hitting hard on the nation's currency, the Naira.
The Naira is losing value to the dollar, with an exchange rate of over 450 Naira to a dollar in the parallel market.
The economic recession was officially declared in a report of the National Bureau of Statistics that showed that the Gross Domestic Product contracted by 2.06% in the second quarter.
Hope of a rebound in the economy was, however, reignited by the International Monetary Fund  (IMF) in its report affirmed Nigeria as the biggest economy in Africa.
The IMF's World Economic Outlook for October 2016, puts South Africa's GDP at 280.36 billion Dollars, from 314.73 billion Dollars in 2015.
Meanwhile, latest estimates from the IMF put Nigeria's GDP at 415.08 billion Dollars, from 493.83 billion Dollars at the end of 2015.