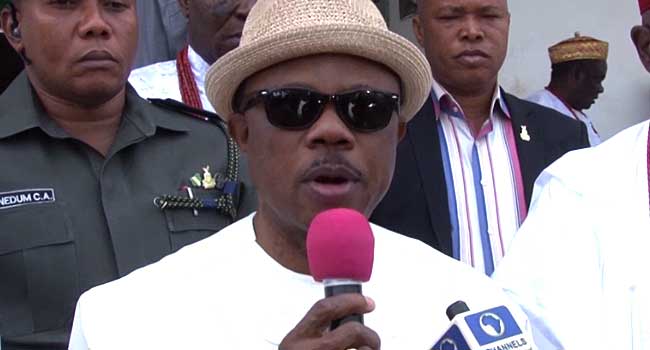 Anambra state government has concluded every arrangement to key into the National Health Insurance Scheme.
This was revealed when a team of medical doctors, under the auspices of the Nigeria Medical Association, Anambra state chapter, paid a visit to the state government at the Government House, Awka.
The visit was to mark the 2016 Physicians Week, with the theme: "Health Care in a Frail Economy, Changing and the Way Forward".
The Commissioner for Health, Dr Joe Akabuike, said that the present administration of Governor Obiano had made efforts in improving the health conditions of people in the state.
Dr Akabuike stated that within three months of Governor Obiano's inception, his administration had passed the Anambra State Primary Health Care Development Agency bill into law.
This, according to him was geared towards providing adequate health services to the people.
Furthermore, he stated that the State House of Assembly would pass the introduction of the Universal Health Insurance Scheme into law in the state.
This would ensure free health services, especially for the indigent people in the state, saying it had passed through first and second reading.
The Commissioner also disclosed that the state had 726 Primary Health Care Centres, of which 526 were owned and managed by the government, while 210 were owned by individuals and churches.
He explained that those health centres should have been managed and thoroughly supervised by the local government, but as a result of incapacitation of the government throughout the federation, those centers turned moribund.
Sharing some good news, he said that the present administration had declared a state of emergency on the situation and was currently revamping the centres.
According to him the Government had equipped 63 health centers, three from each local government across the state.
In his address, the Chairman of Anambra State Nigeria Medical Association, Dr Emejuku Jude-Kennedy stressed that the visit was also aimed at presenting a letter to Governor Obiano to deliver President Buhari.
The letter was regarding the National Health Act which was passed into law two years ago, precisely on October 27, 2017, which is yet to be implemented.
The Act was based on the provision of a framework for manpower development, health financing, training, sanction and ethnic control of health practices.
Dr Emejulu pointed out that the annual Physician Week would avail them the opportunity to get abreast of their environment, review their duties and activities as well as ensure they embark on health therapy that would equally improve their standard of living.
The chairman opined that the association had been facing financial constraints due to the present economic crunch, nonetheless, assuring that they would always discharge their duties effectively in accordance with the rules.
He commended the state government for its immense collaboration with the association in protecting the state above other states in medical service delivery.