Bayelsa Lawmakers Advocate Retraining Of Security Personnel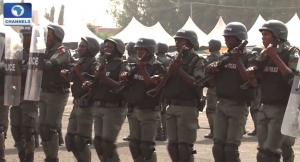 The Bayelsa State House of Assembly has called for the retraining of personnel across the different security agencies with emphasis on the Nigeria Police.
The lawmakers stressed the need for the training, following the case of an alleged extra-judicial killing in the Bayelsa State, south-south Nigeria.
Chief Whip of the House of Assembly, Tonye Isenah and the House Committee Chairman on Security, Colonel Bernard Kemebai (Rtd), described the incident as regrettable.
They assured the public of their commitment to ensuring that justice is served while advocating for the retraining of security personnel.
The incident centered on the death a middle-aged carpenter, Anayo and four-year-old Godsgift Odoki who were hit by a stray bullet during a gun battle between the Police and some suspected cultists in Ekeki community in Yenagoa, the state's capital.
The mishap led to a protest by Obuan youths from Epie-Atissa Kingdom who took to the streets to demand for justice.
They said that the spate of extra-judicial killing in Bayelsa State was worrisome and needed to be stopped.
The youths also took their petition to the Government House where the Special Adviser to the Governor on Security Matters, Mr Boma Spirojack, consoled them, saying such unfortunate incidents were usually unavoidable in any exchange of gunfire.
Meanwhile, the Bayelsa State Police Command has since issued a statement informing the public of the detention of the sergeant who allegedly fired the deadly shot.
The command says investigation was still ongoing while no statement was made regarding the possible arrest of any of the cultists.