Police on Wednesday uncovered a den in Ogun State believed to be operated by fraudsters and used for organised crimes.
The police say unsuspecting members of the public have been swindled of money and other valuables.
Located inside the bush at Abule Ifa area of Siun, in Obafemi Owode Local Government Area of the state, many victims were thought to have fallen victims to their pranks.
Leading others, including the Commissioner of Police, Ahmed Iliyasu, the Assistant Inspector General of Police, Abdulmajid Ali, said two suspects had been arrested and would be made to face the consequences.
A Place For Organised Crime
The building from outside looks like a place where movies are shot, but on the inside, it bore marks of a place where illegal activities occur.
It is located inside the forest, hidden from the prying eyes of other members of the community.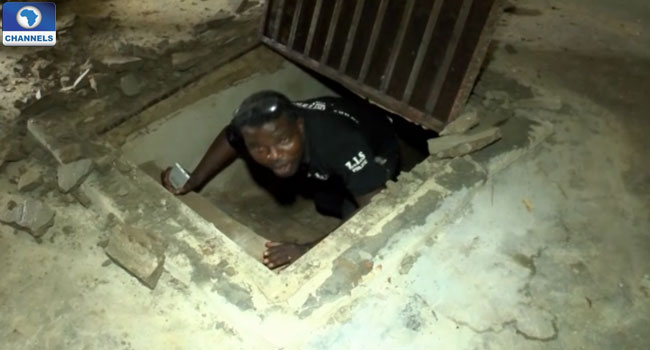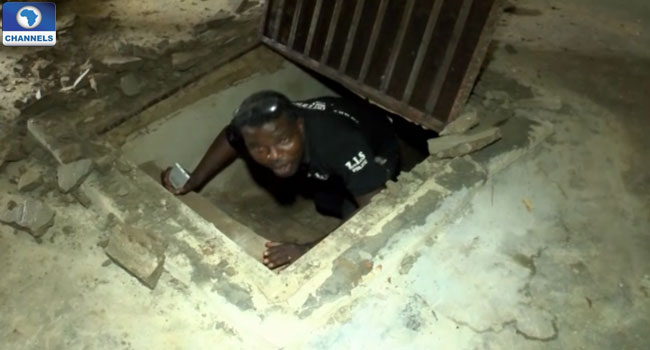 A cursory look at the buildings revealed that the den was equipped with underground bunkers, no doubt many unsuspecting members of the public must have been duped of their money and other valuables.
"I think you have gone around yourself and see some funny stuffs they put in place.
"This is not a theatre place. This is a place for organised crime, where fraudsters use to deceive innocent citizens and part with large sums of money.
"I have gotten a lot of report about them and we have been monitoring them and we have successfully arrested two of them," Mr Ali told reporters.
Two suspects have been arrested in connection with the den. They claimed to have been in the business for months now.
One of the victims who was lured into the den narrated his ordeal.
He said: "When I got inside, they were in the dark and they were talking to me saying that they wanted to make me the richest person in this country. In this wise, I asked them what my next action should be.
"They said that they will cut down the Iroko tree, calve a box for me and that I will have to look for a house where nobody will enter and put it there.
"They said I will have to put 40 million Naira there and that it will be converted to dollars".
In a related development, the State Police Command also paraded a 32-year-old house-wife and mother of one alongside two others for allegedly hiring hired assassins to eliminate her husband over unresolved marital issues
The woman in question, Oluchi Onyebuchi, has, however, debunked this claim asking the police to investigated the claims and ascertain her culpability or otherwise.