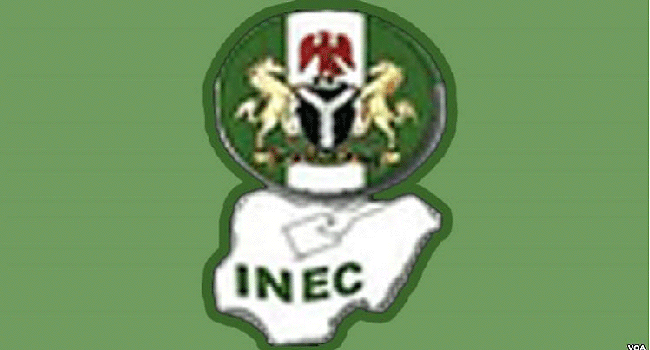 The Independent National Electoral Commission (INEC), on Thursday published the lists of candidates in the November, 2016 Ondo state governorship election on its website, barely one month to the polls.
This comes after days of agitation by both factions of the Peoples Democratic Party in Ondo state.
The two factions led by Senator Makarfi and that of Senator Sheriff have been embroiled in legal battles, asking INEC to recognize their candidates.
INEC has chosen Jimoh Ibrahim of the Ali Modu Sheriff-led faction as the party's recognized candidate.
Oluwarotimi Akeredolu is the flag bearer of the All Progressives Congress (APC) while Mr Olusola Oke is the candidate for the Alliance for Democracy (AD).
Full List below:
CANDIDATES FOR ONDO STATE GOVERNORSHIP ELECTION, 2016
1. GOVERNOR        AMUDA OLADARE           M            A
DEPUTY                 AMBODE ALEXANDER ABIODUN M            A
2. GOVERNOR        YINKA OLOYEDE OROKOTO          M            AA
DEPUTY                 ABIOLA OJO        M            AA
3. GOVERNOR        FRANCIS ADETUWO OGUNJUMELO         M            ACPN
DEPUTY IKUSIKA GRACE OLANIKE              F              ACPN
4. GOVERNOR      OLUSOLA ALEX OKE         M            AD
DEPUTY                DAUDA GANNY OLUWADARE     M            AD
5. GOVERNOR        MARGARETA MODUPE OGUNYOKU (OJO)           F              ADC
DEPUTY                 AGANMAYO ISEOLUWA M            ADC
6. GOVERNOR       OLUYI FOLASHADE HELLEN           F           APA
DEPUTY                 OWOEYE DAMILOLA JONATHAN M            APA
7. GOVERNOR       OLUWAROTIMI ODUNAYO AKEREDOLU M            APC
DEPUTY                ALFRED AGBOOLA AJAYI               M            APC
8. GOVERNOR       FRANCIS ADEYEMI ALAO               M            APGA
DEPUTY                 FAMUSIPE RUFUS IDOWU            M            APGA
9. GOVERNOR        FUNMILAYO JENYO ATAUNOKO M            BNPP
DEPUTY                 OLAJOBI OLALEKAN ABIMBOLA M            BNPP
10. GOVERNOR       FASUA PETER OYELEYE   M            CPP
DEPUTY                 OWOLABI SALIU YUSUF M            CPP
11. GOVERNOR       ADEEYO MATTHEW BOLORUNDARO       M            DPC
DEPUTY                 OLAIYA REMILEKUN MARGARETH             F              DPC
12. GOVERNOR        FALANA OLAMIDE JULIANA         F              DPP
DEPUTY                 LAWRENCE KEHINDE FESTUS       M            DPP
13. GOVERNOR        ODEDEYI OLUMUYIWA JOHN      M            HDP
DEPUTY                 OLOWOKANGA SAMUEL               M            HDP
14. GOVERNOR        SAMUEL OLUWATOYIN AKOGUNRIN       M            ID
DEPUTY                 FAMUAGUN OLUWATOSIN MOSES          M            ID
15. GOVERNOR        DANIEL OLUDARE OGUNGBEMI M            KOWA
DEPUTY                 FAUSAT ADEOLA ALIU    F              KOWA
16. GOVERNOR        ADEUTI STEPHEN TAYE   M            LP
DEPUTY                 AKINBAMIRE ADEBAYO BENSON               M            LP
17. GOVERNOR        OBAYORIJU JIMOH ABASS            M            NCP
DEPUTY                 OWOLABI OLALEKAN STEPHEN   M            NCP
18. GOVERNOR        OLUWADARE BADA         M            NNPP
DEPUTY                 JONATHAN AJINDE SUNDAY        M            NNPP
19. GOVERNOR        AYIBIOWU MOSES IGE   M            NUP
DEPUTY                 OJO AKINWALE OLADAPO            M            NUP
20. GOVERNOR        OLUWASEGUN ODIDI     M            PDC
DEPUTY                 OLATUNJI LEO SEGUN    M            PDC
21. GOVERNOR        JIMOH IBRAHIM FOLORUNSO     M         PDP    COURT ORDER
DEPUTY                 ALABI EBENEZER OMOTAYO        M            PDP      COURT ORDER
22. GOVERNOR        ADENIYAN ABIODUN DANIEL      M            PPA
DEPUTY                 OLADELE TOLANI BAMITALE        F              PPA
23. GOVERNOR        ORUNMOLUYI TEMIDOLA OLAGBEGI       F              PPN
DEPUTY                 ONISEMO MICHAEL OLADAPO   M            PPN
24. GOVERNOR        ARIGBEDE ROLAND GBENGA       M            PRP
DEPUTY                 OLADELE PAUL OLUWASESAN    M            PRP
25. GOVERNOR        OLU AGUNLOYE M            SDP
DEPUTY                 MODUPE AKINDELE MARTINS    F              SDP
26. GOVERNOR        OLUGBENGA AKINWALE FALAIYE              M            UDP
DEPUTY                 SEIBU LAMIDI    M            UDP
27. GOVERNOR        AIDI BOLARINWA ELIJAH               M            UPN
DEPUTY                 TIEWEI JULIUS   M            UPN
28. GOVERNOR        ANTHONY ADENIYI ADENIRANYE               M            YDP
DEPUTY                 EGBEOLA OLAWALE MARTINS    M            YDP
Dated: 27TH OCTOBER, 2016
Mrs. Augusta C. Ogakwu
Secretary, INEC