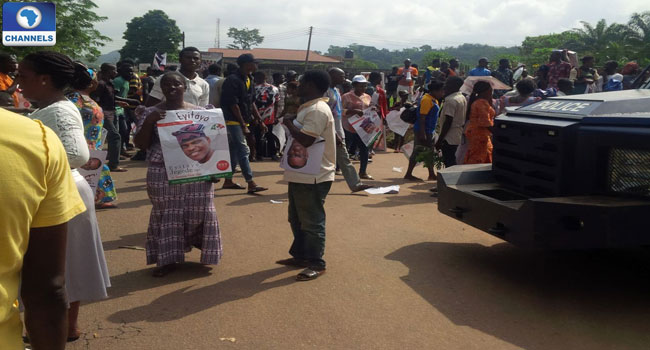 Some members of a faction of the Peoples Democratic Party (PDP) in Ondo State in south-west Nigeria are kicking against the list of governorship candidates released by the electoral body, claiming that the PDP candidate was a wrong one.
The protest is holding in the state's capital, Akure at the office of the Independent National Electoral Commission (INEC).
The aggrieved protesters are kicking against what they called that the removal of Eyitayo Jegede's name as the party's candidate in the governorship election.
INEC had listed Mr Jimoh Ibrahim as the candidate of the PDP for the Ondo governorship election slated for November 26.
INEC released its list of candidates for the election on its website on Thursday evening after a Federal High Court declined to grant an application filed by the candidate of the Ahmed Makarfi-led faction of the PDP in Ondo State, Mr Eyitayo Jegede, seeking to appeal an earlier decision that ordered the electoral umpire to recognise Mr Jimoh Ibrahim as the PDP flag bearer in the Ondo governorship election.
In a ruling that lasted for about one hour on Wednesday in Abuja, Justice Okon Abang held that Mr Jegede lacked the 'locus standi' to appeal the decision of the court.
'There Will Be No Peace'
The two factions of the PDP in Ondo state – the Senator Ahmed Makarfi-led faction and the Senator Ali Modu Sheriff's faction – had mounted pressure on the electoral body to accept their candidates.
In the heat of internal wranglings within the party, factions held primaries and chose a candidate to represent them.
But the INEC added Mr Ibrahim's name in the list of candidates vying for the governorship seat in the election that will hold in about a month's time.
This decision triggered protest on Friday, with the aggrieved supporters of the deprived candidate carrying placards emblazoned with different messages and requests for the electoral body to change its decision.
Some of the aggrieved protesters vowed that there would be no peace in Ondo State "until the name of Mr Jegede is returned as the flag bearer of the PDP in the governorship poll.
There was heavy presence of security personnel in Akure within the office of the INEC to forestall any breakdown of law and order.