FG, CBN Restates Commitment To Boost Rice Production To End Importation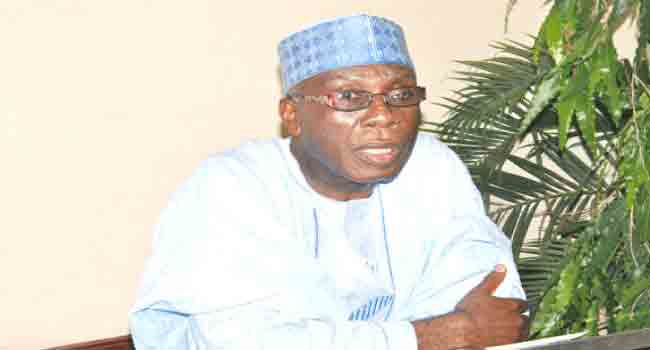 The Federal Government is set to support the Niger state government with irrigation equipment, to enabled its rice farmers in the production of one million metric tons of rice by the end of this year's dry season farming.
The Minister of Agriculture and Rural Development, Audu Ogheh made this known at Sachi village, Lavun Local Government of Niger state in an inspection tour of the Central Bank of Nigeria (CBN) Anchor Borrowers Program of States. He added that so far about 2 billion Naira has been spent through the scheme in the state.
He said that over 2,000 farmers from 57 cooperatives had so far benefited from the program in Niger State, hence 1,700 are preparing for this dry season farming and 907 cotton farmers are to benefit from the CBN programme.
The Minister informed that soon Nigeria will be able to feed the nation with rice produce and export, just as the provision of irrigation facilities to increase output  includes: solar power water pumping machines, small rice milling facilities, thrashers and combine harvesters to ease the processing of rice produce to boost their economy.
The CBN Governor, Mr. Godwin Emefiele in his remarks applauded the Niger State Government and the cooperatives for their zeal for the 30,000 hectres of land for the programme.
He noted that 2 billion Naira had been disbursed for 14,000 farmers in the state so far under the program.
He assured of speedy process of the scheme by considering the comparative advantage of Niger State in rice production, adding that the state is in competition with Kebbi state.
Governor Abubakar Sani Bello of Niger State at the event expressed the determination of the state government in assisting farmers to improved production while awaiting the promised rice mills so as to take off immediately.
Governor Bello stressed the need for a template on the technical specifications from the committee, assured of 90,000 square kilometers awaiting for cultivation hence other senatorial zones of the state to be taken in to consideration.
He expressed satisfaction over the support from CBN and Federal government as this has created jobs for the youths in the area, while calling for the support in the area of irrigation system to ease dry season farming in the state.
Meanwhile, the Kebbi State Governor, Abubakar Atiku Badugu appreciated the effort of President Muhammadu Buhari for ensuring sustainable dry season farming in the country and actualizing the feeding of Nigerians.
The leader of the Anchor Scheme Cooperatives, Ahmed Muhammadu expressed happiness over the CBN program but said that they were challenged with lack of irrigation equipment which if not provided, would hinder the actualization of the dry season farming in the area.