Lawyers Seek Investigation Into Allegations Of Rights Abuse In The Judiciary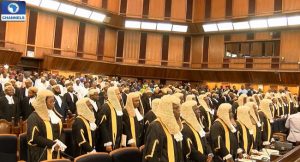 A group of lawyers are still kicking against the arrest of judges by the operatives of the Department of State Service (DSS) and the continued detention of Nigerians who have been granted bail by various courts.
The lawyers under the auspices of Lawyers in Defence of Democracy staged a protest on Monday in Abuja.
In a protest letter, the lawyers called on the National Judicial Council and the Chief Justice of Nigeria to direct all judges in the country not to hear any applications from the DSS and other agencies, except bail applications until there is obedience to all pending orders against them.
They alleged that there was continuous abuse of Nigeria and disregard for the rule of law and asked the National Human Rights Commission to investigate their claims.
Channels Television's correspondent, Amaka Okafor, reports that the lawyers carrying placards were joined by musical groups.

The spokesman for the group, Kenga Ugochiyere, decried what he called disrespect for the judiciary by agencies of government, pointing out that it is not good for the country's democracy.
"To ensure the independence of the judiciary the national judiciary must take a stance," he stressed.
At the office of the National Human Rights Commission the group raised issues of abuse of court orders, citing persons that have remained in detention in spite of getting bail from the court.
After they tabled the issues, the Executive Secretary National Human Rights Commission, Professor Bem Angwe, assured them that the commission would look at their request and act accordingly.
This protest comes days after another group threw its weight behind the department of state services for the raid of judges' homes across the country.