Nigerian Pensioners Demand Payment Of Arrears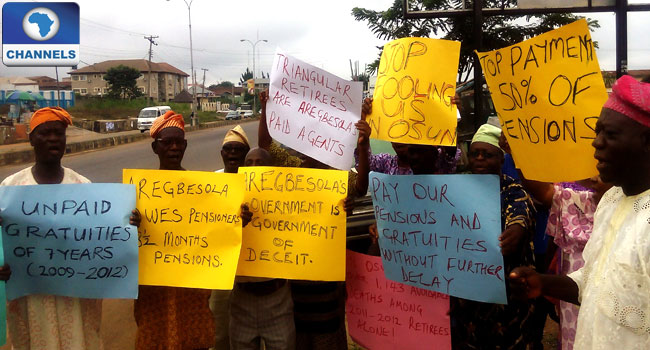 The National Union of Pensioners has asked the Federal Government to pay the 18 months' arrears of the 33% pension increase owed pensioners since the review in 2010.
The pensioners were reacting to the payment of 24 months out of the total 42 months owed them.
They say apart from the paramilitary pensioners, other beneficiaries of the increase such as the railway corporation, universities, the Police and electricity workers are yet to fully benefit from the scheme.
They asked for more since their pension has been due for review since 2015.
Reacting to the pensioners' outcry, the Executive Secretary of the Pension Transitional Arrangement Directorate, Sharon Ikeazor said that the 2016 budget did not make provision for the payment of the arrears.
She, however, explained that the agency is working with the relevant players in the pension sector to resolve the issue.
She also assured the pensioners that the verification of pensioners which was suspended in 2014 would resume to ensure that every pensioner is accounted for and paid as and when due.