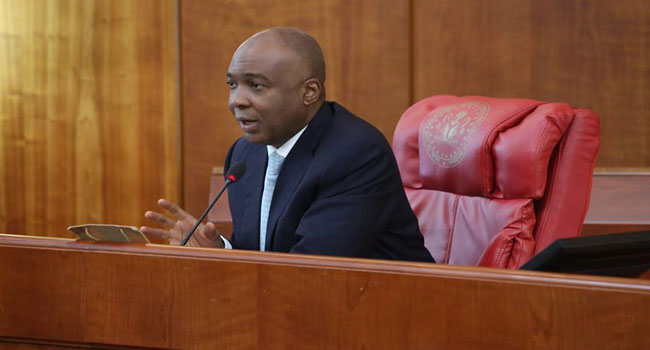 The trial of the Senate President, Dr. Bukola Saraki, has resumed at the Code of Conduct Tribunal in Abuja.
This comes after more than five months and following the dismissal of his appeal by the Appeal Court, challenging his trial by the Code of Conduct Bureau.
At the resumed trial, the prosecuting counsel, Mr Oluwaleke Atolagbe told the tribunal that the case was adjourned for conclusion of trial but this was countered by the defence lead counsel, Mr Kanu Agabi who said that the case was for continuation of trial instead.
The key witness Mr Michael Wetkas, also maintained his stance to continue with his evidence. He was cross examined on counts two, three and four on the mode of payment of property purchased by the Senate President in 2006.
The defence counsel in charge of the cross examination for the day, Mr Paul Usoro reminded the tribunal that the cross examination was suspended on counts 8 and 9 which concerns the properties in Abuja.
Under cross examination by counsel to the Senate President, Mr Paul Usoro, the chief prosecution witness read out charge number two which alleged that the Senate President declared that he purchased his property in Ikoyi, Lagos state from proceeds of food commodities, when he purchased it with loans from a commercial bank.
He was then asked to read the asset declaration form of the Senate President for the year 2007 and Mr Wetkas agreed that the form indicated that the properties were bought with a loan from the bank.
He was, however, quick to add that four years after in 2011 the same properties were declared to have been acquired from proceeds from the commodity business of the defendant.
The witness was then asked to read the bank statement of the defendant and he read that the loan obtained to purchase the properties in dispute has been liquidated prior to 2011 declaration in five trenches between May 2007 and May 2008.
He insisted that the manner in which the loan was repaid contravened the money laundering act.
But when counsel to the Senate President asked if the offense was that of money laundering and that the tribunal should not be the court to try Dr Saraki, the prosecutor, Rotimi Jacobs, raised an objection, arguing that earlier during investigation, it was proven by some people that the money used to repay the loan was given to them by the Senate President in the Kwara government house.
While the defence counsel says it has made significant progress in debunking the testimonies of the prosecution witness, the prosecutor accused the defence of wasting time.
The defence says it will continue with the cross examination at the next adjourned date.