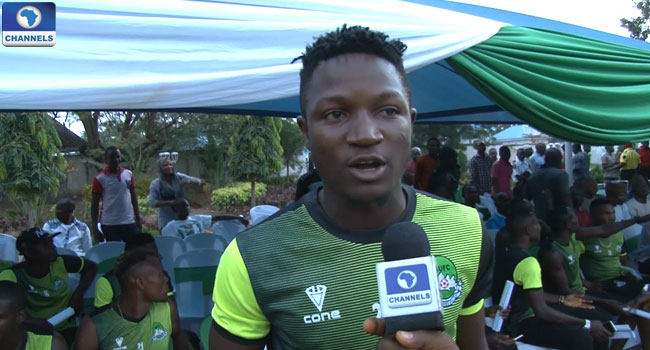 The Nasarawa State Governor, Tanko Almakura, has rewarded the players of Nasarawa United FC despite their loss at the finals of the 2016 Federation Cup.
He gave the reward during a reception organised in their honour at the presidential lodge in Lafia where he presented all the players with plots of land at Karu Local Government Council and a token of 200,000 Naira each.
The plots are within the corridors of the Federal Capital Territory, Abuja close to the Karu International Market.
He told the crowd that the area considered is the Koroduma district which is just 500 meters from the market.
The Governor also assured them that the road to the housing estate given to the players would be named Nasarawa United Road.
He says the gesture is to spur them to do more in doing the state proud.
Governor Almakura further promises to conclude the Nasarawa township stadium in the next two months, expressing optimism that when completed the stadium would motivate the players to perform at their best calling on other team to take their time.
"By the time we complete the stadium and get the whole field ready for this boys, every team should take their time in Nigeria because Nasarawa state will write history in the history of football in Nigeria," he said.
On their part, the players expressed gratitude to the governor.
Shammah Tanzi, who spoke on behalf of his team mates, said they were jittery about their performance but only to come home to be celebrated by the governor and their families.