Trump Preaches Unity In Victory Speech
The President-elect of the United States of America, Donald Trump, says he will uphold a united America and reclaim the nation's destiny when he takes over.
After an election campaign that has been described as divisive and intensely contested; Donald Trump will become the 45th US president following a stunning victory over Democrat Hillary Clinton..
In his victory speech, Mr Trump hailed his opponent saying; "she fought very hard. She has worked very long and hard over a long period of time. We have a sense of gratitude for her service".
At the Trump campaign centre in New York, the President-elect pledged to be a President of all American people.
President To All Americans
He says he will rebuild the nation's infrastructure.
"Now it's time for America to bind the wounds of division. We have to get together. To all Republicans, Democrats and independence across this nation, I say it is time for us to come together as one united people.
"I pledge to every citizens of our land that I will be president to all Americans and this is so important to me.
"Working together, we will begin the process of rebuilding the nation.
"We will rebuild our infrastructure which will become by the way second to none and we will put many of our people to work as we rebuild it.
"We will embark upon a project of national growth and I will harness the creative talent of our people and we will call upon the best and brightest to leverage on their tremendous talent for the benefit of all.
"We have a great economic plan. We will double our growth and have the strongest economy anywhere in the world. At the same time, we will get along with all other nations willing to get along with us.
"Nothing we want for our future is beyond our reach. America will no longer settle for anything less than the best.
"We must reclaim our country's destiny and dream big and bold and daring. We have to do that and we are going to dream of beautiful and successful things for our country," he stressed.
Mr Trump further highlighted his commitment to his nation, saying; "while we will always put America's interest first, we will deal fairly with everyone.
"We will seek common ground, not hostility… partnership not conflict".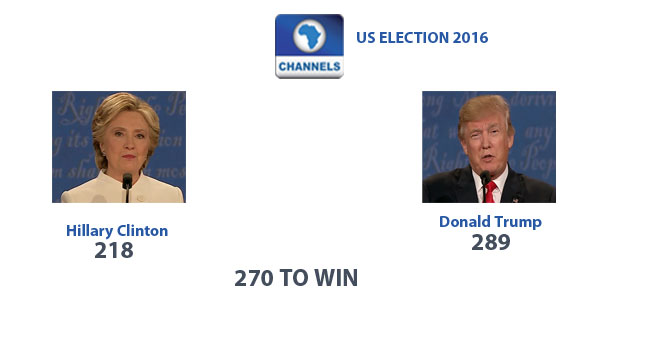 He acknowledged that it was a tough race to the White House and described politics as a nasty and tough affair.
The President-elect also said he would repeal most policies of the ruling democratic party.
"It has been what they call a historic event and to be really historic, we have to do a great job.
"While the campaign is over, our work or this movement has just begun. We will get to work immediately for all Americans. We are going to be doing a job that hopefully you will be so proud of your President.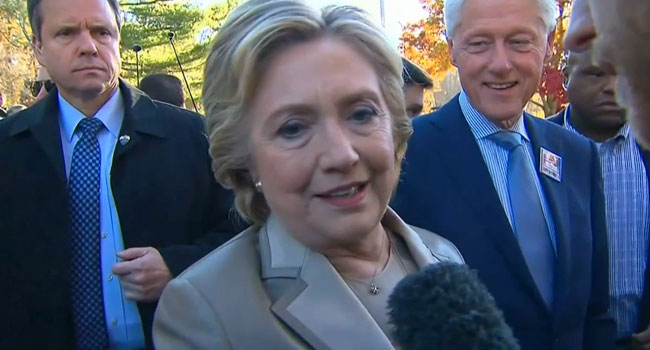 "I love this country," Mr Trump told the gathering.
He is set to become the 45th President of the United States and he won with 289 electoral college seats. It is the first time that a political outsider [a business man] will win the US presidential election.
The Republican candidate won key battleground states – Florida, North Carolina and Ohio.
Before Mr Trump was declared winner, Mrs Clinton had called him to concede election and congratulate him few minutes before the last result that gave him victory was declared.
Mrs Clinton who got 218 votes, had asked her supporters to go home and that she was not speaking tonight, after results were clear Mr Trump would win.
It was a different Trump that was seen delivering the victory speech, political analysts have said.
He had during campaigns said he would ensure that the nation's borders were protected from migrants that come into US through them, emphasising that Mexican border would have a wall.
Few weeks to the election several allegations of sexual assault were put forward against him, but he denied the claims, saying they were made to tarnish his image.
The president-elect had raised concerns that the electoral process was already rigged in favour of Mrs Clinton, saying he will not commit to accepting the results of the election.
"I will accept the result only if i win," he had said.
Donald Trump's Profile
Mr Trump, born on June 14, 1946, is scheduled to take office as the 45th President on January 20, 2017.
Trump is a businessman and the chairman and president of the Trump Organisation, which is the principal holding company for his real estate ventures and other business interests – a position he has said he will vacate prior to his assumption of the presidency.
During his career, Trump has built office towers, hotels, casinos, golf courses, and other branded facilities worldwide.
Trump was born and raised in New York City and received a bachelor's degree in economics from the Wharton School of the University of Pennsylvania in 1968.
In 1971 he was given control of his father Fred Trump's real estate and construction firm and later renamed it The Trump Organisation, rising to public prominence shortly thereafter.
He has appeared at the Miss USA pageants, which he owned from 1996 to 2015, and has made cameo appearances in films and television series. He sought the Reform Party presidential nomination in 2000, but withdrew before voting began. He hosted and co-produced The Apprentice, a reality television series on NBC, from 2004 to 2015. As of 2016, he was listed by Forbes as the 324th wealthiest person in the world, and 156th in the United States.