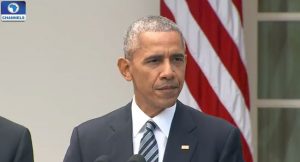 The President of the United State, Barack Obama, on Wednesday reminded Americans that the election was not about the political party but about the American dream, saying that everyone is now rooting for Trump's success in uniting and leading the country.
He expressed confidence that the nation would forge ahead regardless of which side anyone belongs in the election or the candidate that won or lost.
Mr Obama in his speech after Mr Donald Trump was declared winner of the presidential election, said he had called the president-elect in the early hours of Wednesday to congratulate him.
He said: "I had a chance to talk to the President elect last night to call him last night about 3:30a.m. and congratulate him on winning the election and I had chance to invite him to come to the White House tomorrow to talk about making sure that there is a successful between our presidencies.
"It is no secret that the president-elect and I had some pretty significant differences.
"President Bush and I had some pretty significant differences but President Bush's team could not have been more professional or more gracious in making sure he had a smooth transition so that we could hit the ground running.
"I have instructed my team to follow the example that President Bush set years ago.
"We are now all rooting for his success in uniting and leading the country. The peaceful transition of power is one of the hallmarks of our democracy and in the next few months we are going to show that to the world".
We Are Patriots First
Commending the candidate of the Democratic Party for how hard she fought, he pointed out that she had led an extra-ordinary life of public service, serving the nation in different levels.
"I also had a chance last night to speak with Secretary Clinton. I could not be proud of her. She has led an extraordinary life of public service. She was a great first lady and outstanding senator for the state of New York. And she could not have been a better secretary of State. I am proud of her.
"He candidacy and nomination was historic and sends a message to our daughters all across the country that they can achieve the highest level in politics," he stated.
He reminded Americans that they were all in one team, forging ahead for the greatness of the nation.
"Everybody is sad when their side loses an election but the day after we have to remember that we are actually all in one team.
"We are not democrats first we are not republicans first. We are all Americans first. We are patriots first. We all want what is best for this country and that is what I heard when I spoke to him directly and I was hardened by that. That is what the country needs. A sense of unity, inclusion, respect for our institutions, way of life rule of law and respect for each other.
"I hope that he maintains that spirit throughout this transition and I certainly hope that that is how his presidency has a chance to begin," he added.
Obama's speech came minutes after Mrs Hillary Clinton in a speech told Americans to support Mr Trump's in achieving unity, pointing out that the election had showed how much divided the nation was.
"Our campaign was never about one person or even one election. It was about the country and about building one America.
"We have seen that our nation is more deeply divided than we thought," she said.
Mrs Clinton told the gathering that the outcome of the election was not what she had expected, but apologised for not winning the election.
"This is painful and it will be for a long time. But I want you to remember this; our campaign was never about one person but about the country we love.  It is about building an America that is hopeful, inclusive and big-hearted," she told the gathering.
Values enshrined in the nation's constitution, held with high esteem, were also brought up by the Secretary of State.
"Peaceful transfer of power, rule of law, the principle that we are all equal right and dignity, freedom of worship and expression. We respect and cherish these values too and we must defend them," she added.
Congratulatory messages have continued to pour in for Mr Donald Trump after he won the United States presidential election with over 270 votes.
The President of the European Union Commission, Mr Jean-Claude Juncker, was one of the first world leaders to congratulate Mr Trump.
In a statement he released on Twitter, Mr Juncker expressed hopes that the EU and the US would strengthen relations through close cooperation.
On his part, Nato Chief, Jens Stoltenberg, also expressed hopes that Nato would work with us president-elect in tackling security challenges.
One person that has been described as Trump's supporter by Mrs Clinton, Mr Vladimir Putin, also sent a congratulatory message to the president-elect.
Mrs Clinton had said that Mr Trump would be Mr Putin's puppet.
In a telegram to Mr Trump, Russian president congratulated Mr Trump and expressed confidence that Washington and Moscow would deepen relations.
The telegram read: "Mr Putin expressed confidence that building a constructive dialogue between Moscow and Washington, based on the principles of mutual respect and real consideration for each other's positions, would be in the interest of the people of both countries and the whole world".