Wike Says Illegal Printing of INEC Materials Must Be Investigated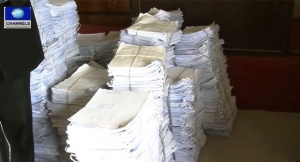 The Rivers State Governor, Nyesom Wike, has raised an alarm over what he described as a calculated ploy to sweep under the carpet, the recent discovery of an office where INEC materials were being printed.
The Governor expressed his worry in a meeting with journalists in Port Harcourt, the state capital.
According to him, the matter had been moved to another zonal command of the Police (Zone 6) and this, he says may jeopardise investigation.
Governor Wike called on the Independent National Electoral Commission (INEC) to use this opportunity to reaffirm its credibility which he thinks has been threatened by inconclusive elections and to ensure that Rivers state do not get into an avoidable crisis.
He said: "It is our belief that INEC will do everything possible to get to the root of the matter and will tell the Police 'no, you cannot kill this matter, it touches on our credibility'.
"Mere denial is not enough. If you look at the code on the prints, you will see the units where election will be conducted when we are not even aware, how did they know. When people say it was a setup, a set up where?
"As I said we have been following this matter and we were waiting for the right time to strike."
Meanwhile, the Commissioner of Police in the state, CP Francis Odesanya, told Channels Television that the matter was still under his office and that it was yet to be transferred.
He admitted that the matter could be transferred later because it is a federal case but insisted that that will not jeopardise investigations.