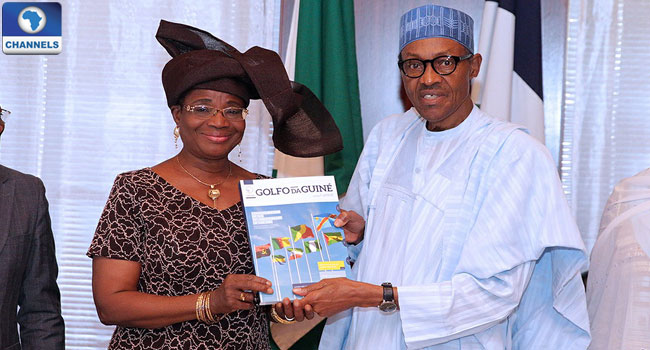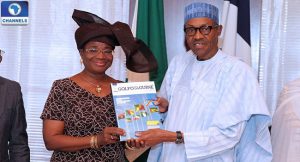 Nigeria is looking to collaborate with other countries to strengthen maritime security in the Gulf of Guinea and check activities of oil thieves in the coast, President Buhari says.
The Nigerian leader made the statement at a meeting on Thursday with the Executive Secretary of the Gulf of Guinea Commission, Ambassador (Mrs) Florentina Ukonga, at the Presidential Villa in Abuja.
He said that most of Nigeria's stolen crude oil is taken through the waterways.
President Buhari told the envoy that the commission was of strategic importance to plug revenue leakages.
"That region, between Senegal and Angola, affects our financial and physical security as a country. Nigeria will, therefore, meet all its obligations to the Gulf of Guinea Commission, and also encourage other member countries to do the same.
"This administration will do its best to strengthen maritime security. The rejuvenation of the Gulf of Guinea Commission is vital, and Nigeria will participate more effectively because of the security implications," President Buhari stated.
A statement by a spokesman for President Buhari, Mr Femi Adesina said Ambassador Ukonga told President Buhari that the Commission was established in 2001 to tackle piracy, unregulated fishing, drugs and human trafficking and environmental pollution among others.
The Gulf of Guinea Commission, with headquarters in Luanda, Angola, also generates awareness among member states on the need to maintain security in their territorial waters.
"We have been giving the bad guys in maritime a run for their money," the Executive Secretary said.
The Commission has eight countries as members from west and central Africa, with an intention to admit more countries soon.