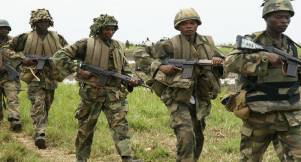 The Nigerian Army has gunned down three female suicide bombers in Maiduguri in the early hours of Friday.
A report by the spokesman for the Borno command of the force, Victor Isuku, confirmed that the women who were sighted in Umulari village, along Maiduguri/Damboa road, near Mulai, by the military patrol team around 5:30 AM local time, had Improvised Explosive Devices (IED) strapped to their bodies.
As the officers shot at them, the IED on two of them exploded, killing all three, while the unexploded IED on the third woman, was rendered safe and detonated by Police bomb disposal Unit who promptly mobilized to the scene.
Foiled Attacks
This is another one in the series of foiled suicide bombing attacks by terrorists.
On Thursday November 3, a statement by a spokesman for the Nigerian Army, Colonel Sani Usman, said troops at a military location 'gunned down' a suspected suicide bomber who made attempts to attack the military formation.
The troops killed all the four attackers including two suicide bombers and also recovered some items from them in the operation.
However, Colonel Usman, stated that the military lost a soldier in the process.
Also on October 30, troops of the Operation Lafiya Dole, averted the plans of a suicide bomber along the same Damboa road in Maiduguri.