Fani-Kayode Regains Freedom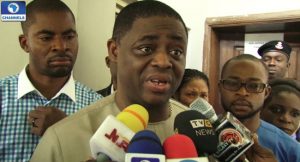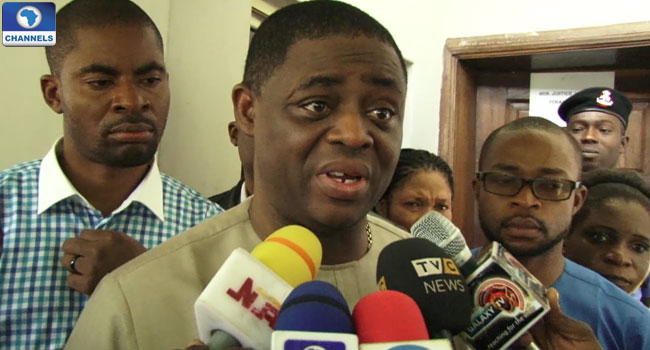 The former spokesman of the campaign organisation of former President Goodluck Jonathan, Mr Femi Fani-Kayode, has been released from detention after 24 days.
Mr Fani-Kayode's release was announced in a statement by his spokesman, Jude Ndukwe.
He said the former Aviation Minister was released "after meeting all the conditions of bail that was granted to him by the Federal High Court in Abuja".
Mr Fani-Kayode was initially held in a detention facility at the Economic and Financial Crimes Commission office in Abuja before he was moved to Kuje prison.
"He gives thanks to God for everything and he has asked me to convey his heartfelt appreciation and love to all those that prayed for and encouraged him and his family at this difficult time and indeed throughout this ordeal," Mr Ndukwe stated.
According to him, Mr Fani-Kayode would now focus on getting the medical attention that he needed.
He also said that Mr Fani-Kayode reiterated his commitment to seeing a better Nigeria.
"He wishes to let all those that have offered him support and that have stood by him throughout this period know that his resolve to help build a better Nigeria and stand up for righteousness and truth remains strong.
"No matter what comes our way we trust the Lord and we believe that we shall prevail," the statement further read.
A Federal High Court in Abuja had on November 10 granted bail to the former Aviation Minister in the sum of 50 million Naira and one surety in like sum.
The court says that the surety must be resident in Abuja and own a landed property in the capital city.
Earlier on Monday, the trial of Mr Fani-Kayode over a 4.9 bilion Naira fraud charge could not proceed at the Federal High Court in Lagos.
This was because he was still in Kuje prison trying to perfect the conditions for his bail granted by a Federal High Court in Abuja on five-count charge of diversion of 26 million naira.
His counsel, Mr Wale Balogun, told the court that he had been in Kuje prisons because he was yet to meet the bail conditions granted him by an Abuja court.
"My lord, the second accused (Fani-Kayode) was kept in custody of the prosecution for 21 days without any word, and finally, arraigned on November 10 before your learned brother, Justice John Tsoho in Abuja, on a five-count charge bordering on 26 million Naira.
"He was subsequently remanded at the Kuje prisons, and in view of this, we are helpless, as his bail conditions have not been perfected in spite of frantic efforts by family and friends," Balogun said.
Mr Fani-Kayode had been facing a 17-count charge of money laundering to the tune of N4.9 billion before he was re-arrested on Friday, October 21 by operatives of the anti-graft agency.