Kaduna Govt. Sets Aside 100mln Naira To Rebuild Destroyed Places Of Worship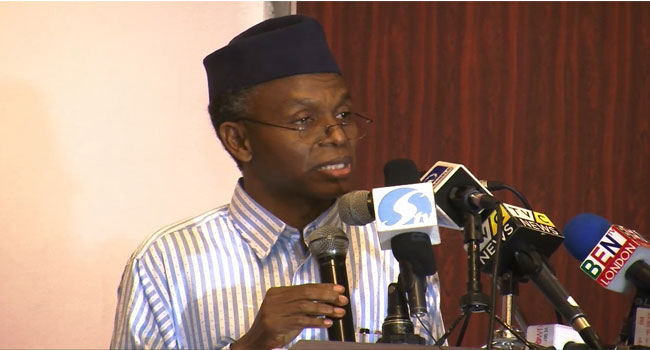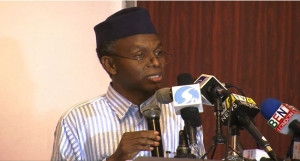 The Kaduna State government has set aside 100 million Naira for the rebuilding of churches and mosques that were destroyed during ethno-religious crisis between Fulani herdsmen and natives in the Southern part of the state
The state governor, 'Mr Nasir El-Rufai, who announced the donation at the unveiling of public apology billboards by the 28 ethnic communities from Jemaa, Kachia, Kaura,Sanga and Zangon Kataf local government areas, said the gesture was part of efforts to restore lasting peace in the area.
Governor El-Rufai also announced that the government had drafted a bill to set up the Kaduna State Peace Commission that would enable inclusion of all citizens on plans for peaceful co-existence.
Although, killings in Southern part of Kaduna State can be traced back to the 80s, with the outbreak of the 1983 Kafanchan crisis, the number of deaths recorded in the area since the 2011 post-election violence has become very alarming and unabated.
Several communities in Sanga, Kaura, Jemaa and Kachia local government areas have been attacked by gunmen, with many people killed, villages razed and property worth millions of Naira destroyed.
Even though several measures have been put in place by the government and other stakeholders, the killings have continued.
It has been accusations and counter accusations between the natives and Fulani herdsmen whom they claimed were responsible for the deadly attacks.
Most often, the people accuse the government of not doing enough to curtail the attacks.
Early this year, the Centre for Humanitarian Dialogue, an international Non-Governmental Organisation, waded into the crises by bringing all the warring parties together for dialogue.
In a move to restore peace to the area, a peacebuilding initiative was established with leaders of Southern Kaduna, Miyetti Allah Cattle Breeders Association of Nigeria (MACBAN), and government officials led by the state governor, Nasir El-Rufai holding talks in Samaru-Kataf.
Part of the initiative was the unveiling of public apology billboards, as a sign of another reconciliation between the Fulanis and the natives.
Governor El-Rufai in his speech, emphasised that apology and forgiveness remained key to achieving lasting peace in the state. He appealed to the various ethnic groups to respect each other, abide by the law and firmly reject division and violence.
"In the last few decades, the people of Southern Kaduna have suffered untold hardships due to incessant conflicts between and among various ethnic and religious communities, claiming many lives and displacing people.
"Various governments in the past, at both Federal and State levels, responded by instituting Commissions of Inquiry, holding peace conferences and implementing actions to enhance security. These efforts have not been enough to restore peace.
"It is clear that we must all go an extra mile to constructively engage with citizens and promote peaceful coexistence among our people.
We must also draw from experiences across the world: If violence was a solution to real or perceived grievances, the sheer number of lives lost, property destroyed and whole communities uprooted from their homes would have solved the problem long ago. Yet, despite decades of distrust that regularly explodes into violence, the problems remain. It has been said again and again that every war ends on the conference table. If that is the case, why must we kill ourselves before we realise the futility of violence?
"It is in pursuit of a policy of constructive engagement that the Kaduna State Government is adopting conflict resolution mechanisms by engaging all parties to work for peace. It is our belief that what cannot be obtained through peaceful means cannot be obtained through violence. We believe that genuine and sustainable peace will come when we accept that mistakes have been made on all sides. Accepting that mistakes have been made prepares the mind for an apology, and apologising for our transgressions prepares the ground for genuine forgiveness and reconciliation.
"Today we are here to launch a Public Apology Billboard, as we grief over the lives sadly taken in the recent violence in the Godogodo chiefdom. Why, our children ask, are we able to discuss peace for decades but not find it on the ground?
"Now, 29 ethnic communities of Southern Kaduna present a public apology billboard to us. These people represented their communities at the dialogues that resulted in the Kafanchan Peace Declaration. They were sent to represent their communities by their leaders. Wide consultation within their communities was carried out in selecting them. Their input and contribution to peace in Southern Kaduna has been crucial. Allow me to opine that leaders are not born and neither are they made.,"he said.
The Governor further commended the initiators of the peace deal, describing them as worthy citizens of the state.
"These group of resilient leaders drawn from different religions and ideologies have now been joined by many more, ordinary citizens, who are now going around Southern Kaduna, seeking the buy in of traditional elders, community and religious leaders, women, youth and the civil society to never again indulge in violence. They want to set up billboards across the five LGAs of Sanga, Kachia, Kaura, Jema'a and Zangon Kataf, at roundabouts, Schools and places of worship. Their message is that no ethnic group, ideology, religion or political party holds all the answers.
"These leaders are asking for innovative solutions from men and women across religious, ethnic and ideological divides.
"They are asking everyone to ignore those who incite violence but who live faraway from the places that suffer when strife breaks out, when schools, farms and markets close, when lives and limbs are brutally taken and property subjected to the brutality of arsonists and looters," he told the gathering.
The high point of the event was the release of pigeons from a cage symbolising peace and reconciliation.
As the leaders depart from here, it is hoped that they will take the message to their kinsmen back home on the need for them to forgive each other, bury their differences and stop the bloodletting that has left the communities backward.