Osinbajo Launches Armed Forces Remembrance Fund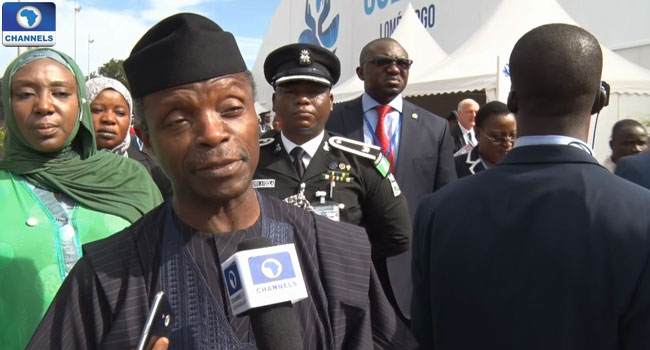 The Vice President, Yemi Osinbajo has said that the Buhari administration will do all it can to support the Nigerian military, and ensure terrorism and hate is stamped out of the Nigerian territory.
The Vice President made this known at the launch of the Armed Forces Remembrance Day Emblem Appeal Fund at the Presidential Villa.
Where he donated 10 million Naira on behalf of the Federal Government and urged all Nigerians to donate to the fund for the upkeep, of the families of the fallen heroes.
The event was designed to honour members of the Armed Forces, especially those who have passed on in the service of their fatherland.
The Vice President who presided over the event promised that the administration will do all they can to appreciate them for ensuring that terrorism and hate do not prevail in our land.
The Minister of Defence says this occasion is unique coming at a time when Nigeria is winning the war against Boko Haram.
He urged all to adorn the emblem as a show of appreciation of what the fallen heroes have done.