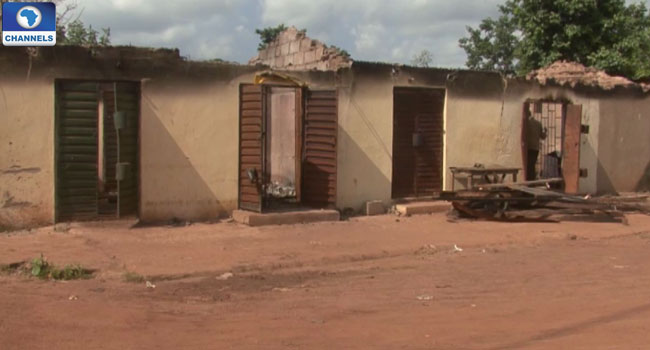 A church in Kaduna State says more than 27,000 people have been displaced from their homes since the renewed attacks by suspected Fulani herdsmen against natives of the southern part of Kaduna State.
The Evangelical Church of West Africa (ECWA) also said that hundreds of others have been killed in the renewed attacks.
The group further kicked against a plan by the Kaduna State government to create new grazing reserves and routes for Fulani herdsmen in the area, alleging that the herders were responsible for the attacks.
They also describe the move as an orchestrated plan by the Fulanis to take over the ancestral land of the indigenes.
Fled From Their Homes
Addressing a press conference on Wednesday, the Chairman of 19 District Councils of the church, Reverend Zachariah Gado, asked the state government to stop the proposed creation of grazing reserves in the area for the interest of peace and security of lives and property.
The press conference by the ECWA Church came barely three days after gunmen attacked four villages in Kauru Local Government Area also in the southern part, killing about 31 people.
The gunmen were said to have carried out coordinated attacks in the four communities, where they burnt down over 150 houses and farmlands.
Now, the residents have fled from their homes to neighbouring communities in Nasarawa, Plateau and Abuja. Those who do not have anywhere to go are now taking refuge at a primary school.
Emergency agencies have deployed officials to provide them with relief materials pending when they will go back to their homes.
This is the same situation in other communities in Sanga, Kaura and Jemaa Local Government Areas since the renewed attacks in those places by suspected herdsmen.
Most worrisome is that majority of the communities do not have access roads, a situation that makes rescue operations difficult during emergency situations.
The State Deputy Governor, Mr Bala Bantex, in company of Secretary to the State government, Baralabe Lawal and other top government functionaries were at the area to assess the level of destruction and also condole with the victims.
On arrival, the interim chairman of Kauru Local Government, conducted the deputy governor and his entourage around the affected villages.
The deputy governor while addressing the few people that were around, urged them to live in peace with one another, stating that the government had already ordered a full scale investigation of the attacks. He said a preliminary report had been received.
He also warns mischief makers to stop politicising attacks in some parts of the state.
"We are here to condole the victims and also assess the situation on ground. We have received preliminary reports and we have already ordered for full scale investigation. We inherited the breakdown of law and order in the state but we are working day and night to restore peace in some parts of Southern Kaduna and places like Birnin Gwari.
"We are also advising people to stop politicising security issues in Kaduna. We must live in peace with one another as one of the ways of embracing peace in our communities. We call on you to reject messages of hatred and division by the mischief makers and ask that you accept peaceful messages.
"We have directed State Emergency Management Agency and they acted promptly by bringing in the relief materials to cushion the hardship of displaced people," he told the gathering.
According to the clergymen from ECWA attacks on Southern Kaduna natives by suspected Fulani herdsmen had started since 2011.
They said that the development was a manifestation of ethnic cleansing by suspected Fulani militia.
While demanding for compensation for affected persons, the church also called on the Federal Government to establish an Army barracks near the affected areas in order to deter such killings in the future.
"Since the violence that followed the 2011 Presidential Election, there have been increasing indications of the existence of a desperate, well-funded, organised and executed campaign not only to make life unbearable for the entire Southern Kaduna territory through threats, intimidation and psychological warfare, but also to occupy the land through what can only be described as ethno-religious cleansing by Fulani herdsmen militia.
"This campaign has been devastating. The Attakad Community Development Association has confirmed that at least 180 people have been killed in Attakad Chiefdom, Kaura LGA, since 2013 and 10,000 persons displaced.
"Since 24 March 2013, 16 Attakad villages have been lost to the Fulani militia and Fulani men are now fully settled with their cattle and families, in Mayit, Agwom, Zakai Gira, Tunga Magwot, Telak, Zakum and Kirim. Several ECWA churches have been destroyed, along with those belonging to other denominations, and many of our members have become IDPs.
"In 2014, several communities in Sanga LGA, were invaded and hundreds of people killed by these armed herdsmen, with no apparent provocation. In an indication of their underlying religious hostility and motivation, churches are usually prime targets.
"To further buttress the assertion that there is an orchestrated plan to drive our members and other indigenes out of these parts of Southern Kaduna, it appears that the next stage will involve the full take over, Godogodo Chiefdom, in Jema'a LGA. Part of Godogodo town, Ninte, Akwa, Ungwar Anjo, Gada Biyu have been overrun and occupied by the Fulani. Churches in these villages are laid to waste after being burnt.
"It is deeply shocking that in the 21 Century, not only are Fulani militia carrying out a campaign of forced displacement and occupation reminiscent of previous centuries, but also that this is occurring so blatantly under the full gaze of a succession of modern, democratically elected governments," Reverend Gado stated.
Fled For Safety
The church heads further said that they were aware that the Kaduna State Government, through the Nigeria Police and Nigerian Army were currently arresting their members, including Royal Fathers, on trumped up charges while the Fulani who have publicly taken responsibility for this carnage are walking free.
"We therefore request that Abdullahi Hassan Mohammed, Ahmad M. Yandeh and Abdulhamid Musa, be arrested and be made to produce those who are behind this grim sin against man and God. Failure to do so would be a clear indication that the Kaduna State Government has taken sides in this matter.
"We also acknowledge the gesture of Kaduna state governor in offering 100 million Naira for the rebuilding of churches and mosques in Southern Kaduna destroyed through violence. We wonder who would be worshiping in these churches, since most of the worshippers have fled for safety or do not even have homes anymore to live in.
"We appeal to the Kaduna State government, in the interests of justice, peace and security, to respect the wishes of the electorate of Southern Kaduna and their elected representatives and stop the creation of grazing reserves in the area, especially since this is tantamount to rewarding perpetrators of murder, arson and destruction for their crimes.
"As perpetrators continue to evade consequences for their illegal and violent actions, impunity and lawless are becoming entrenched, to the detriment of the entire state.
"We therefore call on the State and Federal governments to restore all occupied areas to their rightful owners. Failure to do so will not only encourage further lawlessness; it may also eventually compel the owners of these villages to resort to forceful means to recover their ancestral and only God given lands.
"We appeal for compensation for affected persons, and for relief materials to be provided to the displaced," Reverend Gado added.
Reacting to the allegation at a separate briefing, the Kaduna State chapter of Miyetti Allah Cattle Breeders Association of Nigeria, disassociated its members from the recent attacks.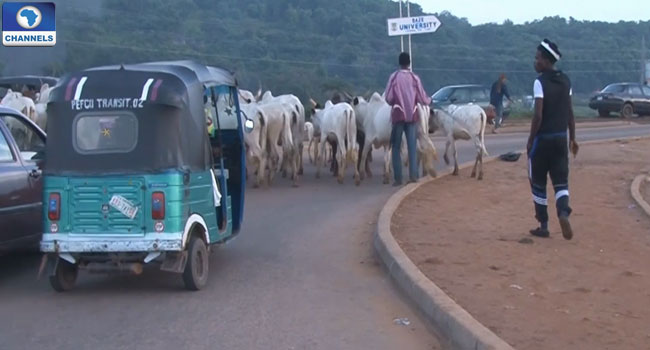 Instead, the leader of the Group, Abdullahi Mohammed, claimed that several Fulani herdsmen and their relatives were the main victims in all the attacks, with many of them killed by suspected indigenes of Southern Kaduna.
He attributed the lingering crisis in the area to include, failure of government to implement recommendations of past probe panels reports, deliberate encroachment of gazetted grazing reserves and routes by local farmers and partisanship of security operatives among other causes.
"Nigerians need to be informed that the recent ongoing clashes between the Fulani herdsmen and tribal farmers in Godogodo Chiefdom of Jema'a Local Government, Kaduna state have received widespread publicity in both electronics and print media and, the episode was specifically tabled at the National Assembly by the elected Representatives from Southern Kaduna.
"Unfortunately, what were published and discussed was one-sided story resulting in the virtual condemnation of the Fulani herdsmen without given them a fair hearing.
"Of recent, and almost across the country, no one bothers to listen to the plight of the Fulani herdsmen. As the decision to condemn them have been overwhelming, in a manner of heads loose, tails-loose situation.
"Therefore, the clear message is, anytime the herdsmen and their animals were attacked, killed or maimed under whatever situation, they have no right to complain not to talk of defending themselves, they are always seen as the aggressors," he highlighted.
According to reports, over 1,500 households were affected since the escalation of the attacks early this year while many are still hospitalised.
This worrisome figure made the Senate consider the issue and summoned the Inspector General of Police to brief the lawmakers on the situation in southern Kaduna.
The renewed attacks no doubt have devastated so many communities and affected socio economic activities in southern part of Kaduna state.
As both parties continue to trade words, government appeal that this is not time for blame game or politicize the killing of innocent souls. Rather, It is time to forge greater unity to ensure the triumph of good over evil.