Seven African Countries Sign MoU With Morocco On Palm-oil Production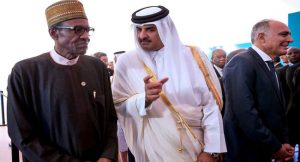 Seven African countries on Wednesday, signed a joint declaration at the Morocco conference on climate change, pledging to protect their tropical forests, by shifting to sustainable palm oil production.
The seven African states that put pen to paper, representing over 250 million hectares of tropical forest for palm oil producers are Ghana, Liberia, Congo republic, Sierra Leone, Ivory coast, Central African Republic and the DRC.
The morocco deal already has the support from some of world's largest palm oil producers, buyers and traders.
Palm oil fuels a 50 billion dollar global industry of food and food proudcts, and is projected to reach 88 billion dollars by the year 2022.
Africa is said to be the world's next growth spot for palm oil production, with Nigeria seeing earnings growth of local producers, as foreign exchange ban on oil palm products spur domestic capacity.
Nigeria's President, Muhammadu Buhari, was among other world leaders in attendance of the conference which spanned between November 14 and 16, 2016.
The convention on Climate Change also known as COP-22, also sought to discuss key issues, including Nigeria's unwavering commitment to implementing the Nationally Determined Contributions (NDCs) and policy actions, aimed at tackling climate change through environmental sustainable efforts.