Kogi Govt. To Set Up Committe Against Illegal Felling Of Trees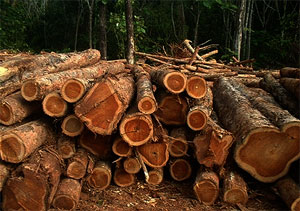 The Kogi state government has resolved to set up a committee to check arbitrary and illegal felling of trees in all the existing forest reserves across the state.
The State Commissioner of Environment and Natural Resources, Rosemary Osikoya, disclosed this while briefing journalists at the end of the weekly State Executive Council meeting in Lokoja.
The commissioner also told newsmen that the state government has placed a fine of 1.5 million per truck on anybody caught in the act of deforestation of the reserves.
She condemned the destruction of 36 designated forest reserves across the state, assuring that government will not relent in its efforts to check the ugly trend.
"the state executive council today approves for the setting up of a committee to review kogi state specific laws, deterrent to illegal tree felling activities with severe penalties".
Osikoya informed journalists that the council approved the recruitment of 100 forest reserves in the three senatorial districts of the state.
The Director-General Media and Publicity to the Governor, Kingsley Fanwon, who also spoke to journalists, re-iterated the council's resolve to ensure that transaction of government business in the state, followed due process in order to boost transparency and accountability in the system.
He intimated newsmen of the council's resolution to retrieve all government vehicles that were illegally carted away by the immediate past political appointees.
Mr Fanwon expressed the council's appreciation over the recent visit of the governor, Yahaya Bello, to some companies in Germany to seek their collaboration towards further development of the state.