Nigerians Can Use Recession To Their Advantage – Osun Lawmaker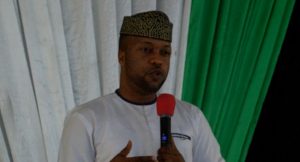 Nigerians should leverage on the current economic recession to come up with entrepreneurship ideas that can change their individual lives and the country.
This was the conclusion of a panel of discussants at the 2016 global entrepreneurship week held in Osogbo, the Osun state capital.
To ensure that Nigerians maximize the opportunities that abound in the country's current situation, experts gathered at a one day global entrepreneurship event tagged "Osun Entrepreneurs and the Management of Recession" to redirect the mindset of people towards utilizing these opportunities.
The event came at a time Nigerians are grappling with the negative impacts the economic recession is having on businesses, government programmes and projects and by extension their daily lives.
For the Chairman of Osun State House of Assembly Committee on Commerce, Babatunde Olatunji, if Nigeria must come out of recession, its citizenry must be ready to do things differently.
"You will all agree with me that if we want to get out of recession, we all need to cultivate entrepreneurial skills.
"We all need to do things differently, to be productive and add value and as a people, both leaders and followers must synergize and cooperate.
"There is no microwave solution to economic prosperity of people, society than to work for it.
"Whatever you don't work for is not sustainable. Leaders must play their roles, followers must play theirs for the country to bounce back," he said.
Similarly, an entrepreneur and participant at the event, Bukola Idowu, was also of the view that the way to go is to be innovative and develop individual entrepreneurial skills.
He said: "During recession, it is just the money that is being affected, opportunities remain the same.
"The opportunity is still there but the money is not there, which invariably means in Nigeria today despite the recession, we still have oil, we still have all our mineral resources, our lands are still fertile, we can still go into agriculture.
"All we need to do is to begin to look at how we can harness our resources to attract money."
The global entrepreneurship week is a platform for connection that helps millions of people develop ideas that can strengthen economic stability around the world.