BON Chairman Advocates Transfer Of Radio, Television Licensing Powers To NBC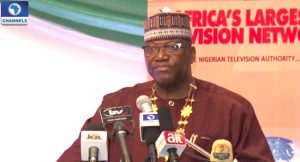 The Chairman of the Broadcasting Organisation of Nigeria, Mr John Momoh, is advocating a constitutional amendment that will provide for the removal of radio and television licensing from the functions of local government councils.
Mr Momoh gave the suggestion on Tuesday in his first official address as the chairman of the organisation.
He is also proposing the empowerment of the National Broadcasting Commission to collect the license fees in trust for and on behalf of the public radio and television stations.
Such amendment will mean that public broadcasters will stop collecting adverts from the public, which will then become the exclusive preserve of private broadcasters.
Mr Momoh, who is also the Chairman and CEO of Channels Television, explained that the proposal would ensure that the principles of funding of the dual broadcasting system, which Nigeria practices, was fully embraced, implemented and practiced as it is in other parts of the world.
It was the 66th General Assembly of the Broadcasting Organisation of Nigeria which coincides with the final transition and hand-over of baton of leadership to the newly elected chairman of the organisation and his Vice Chairman, Sa'a Ibrahim.
To set the tone for the Assembly, which focuses on plans for the broadcast sector development, the out-going chairman of the organisation, said innovation, creativity and responsiveness were critical to the broadcasting association.
The role of the media as the developmental template setter, as well as challenges that need to be tackled to reposition the Nigeria broadcast industry, are central to discussions at the assembly.
With the handover of mantle of leadership to Mr Momoh, the 12th chairman of the association and the first independent broadcaster to hold the position, his key areas of concern were stated without equivocation.
Some of the areas the new BON chairman is set to tackle are; the establishment of a united and common front to help eliminate industry debt, resuscitation of the Society of Nigerian Broadcasters, digital switchover, the education and training of members through collaboration with international broadcast organisations and the establishment of a BON festival.
For these projections, he sets the stage with a promise of a new era in the broadcast industry.