Health Minister Says $400m Polio Donor Funds Not Stolen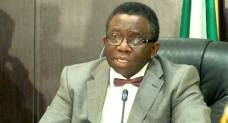 The Minister of Health, Professor Isaac Adewole, has denied reports that a $400 million donor funds meant to eradicate polio in Nigeria was stolen.
Professor Adewole dismissed the reports at a public hearing organised by the House of Representatives Committee on Health Services.
It was held to consider ways of revitalising the Primary Healthcare System and avert health crisis in Nigeria.
The public hearing was the opening of the ceremony that will hold for two days.
Addressing the lawmakers, the minister pointed out steps that must be taken to reverse the situation in the country's health sector, emphasising the need for more funding.
The Chairman of the Committee, Honourable Chike Okafor, asked the executives to implement the National Health Act and ensure the funding of basic health care.
On his part, the Minority Leader, Leo Ogor, of the House and Chairman of the Committee said there was an urgent need to address the nations' health situation.
Other members of the House Committee on Health Services, the wife of the Senate President, and other operators in the sector were present for the event.
It is expected that the forum would not only come up with practical and workable ways of enhancing the country's Primary Healthcare System but will make sure it becomes a reality.